Notes first published July 4, 2022
Update available from July 4, 2022
Version 1.31 of the Smartabase Athlete app is ready for you to use. The latest update contains support for Database fields in offline mode, updates to how your organization's terms of service are shown on the Athlete app and some bug fixes.
Database fields available in offline mode
In previous releases of the Athlete app, we provided the ability to use the app in offline mode - that is, when there is no network connection available for your device. The latest release of the Athlete app now supports the use of Database fields during offline entry. When you download a form for offline use, database records for any databases within that form are cached to your device. If the event form has not been downloaded to your device and you lose the network connection during data entry, any database records that are selected or expanded are cached so you can complete the record.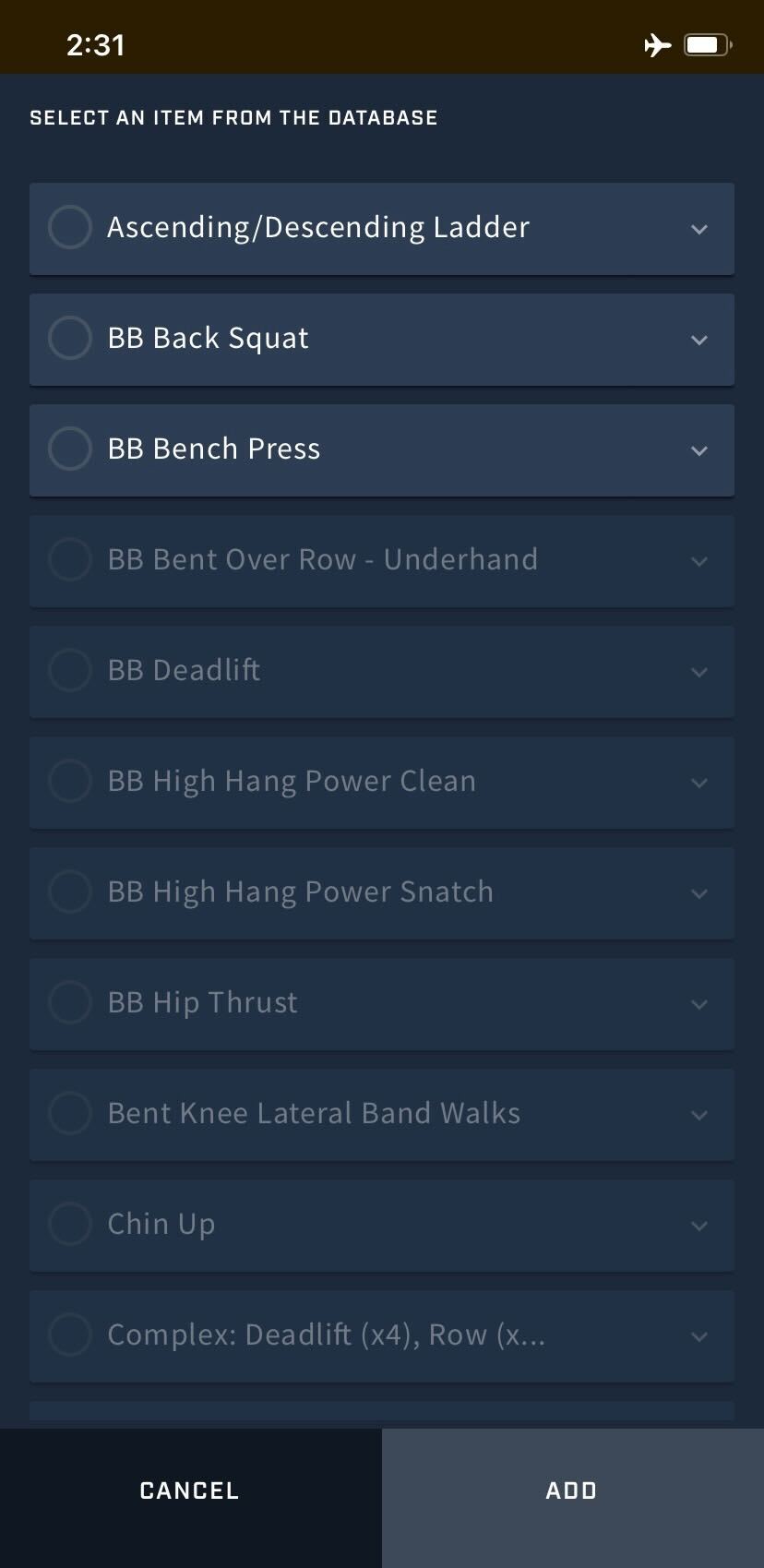 In the example above, the first three database records were selected or expanded when the network connection was lost therefore they are still able to be selected while offline. The other database records are greyed out, indicating that they cannot be selected.
For more information about Database fields, refer to our article on Databases.
Terms of service
When logging into the Athlete app, you are required to tick the box on the login screen indicating that you have read and agreed to the Smartabase terms of service. You can access these via the Terms of service links on the login screen.
If your organization also has their own terms of use for Smartabase, these can be accessed from the login screen via the Terms and conditions link.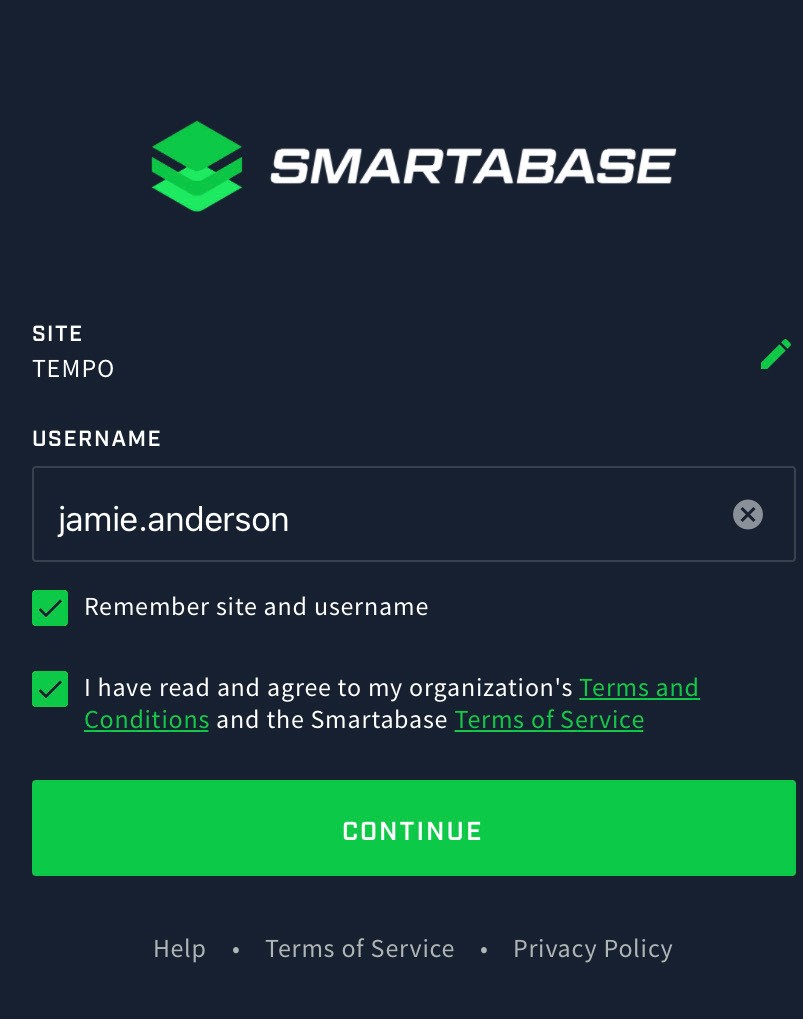 Once logged in, you can now review all terms that you have accepted in the Privacy section of the Settings screen.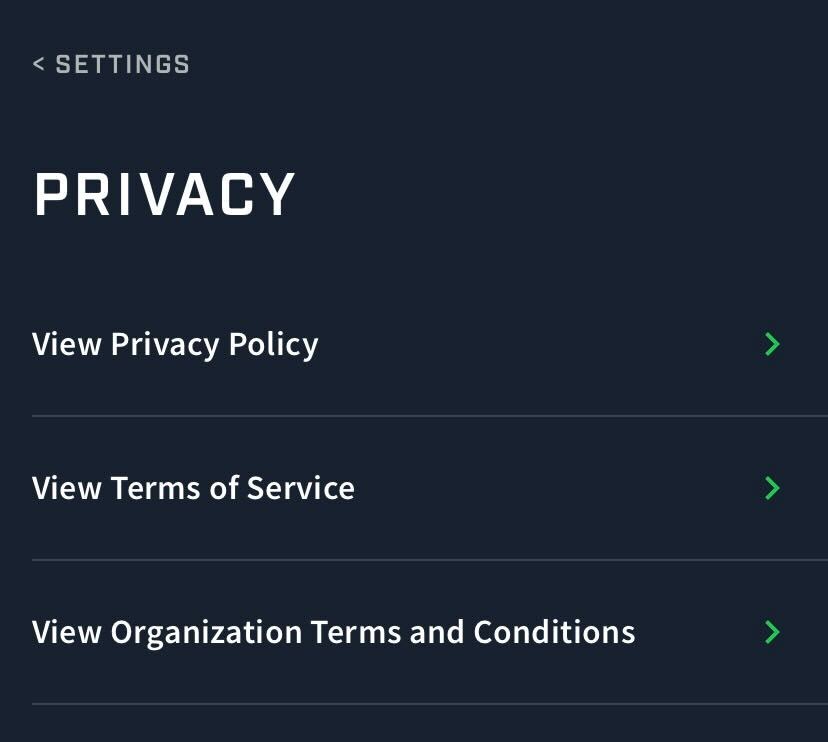 Bug fixes
We've resolved an issue with the Apple Health integration where daily summary data was only backdating 7 days (not 60 days as it should).
We've also resolved an issue with the Apple Health integration not automatically syncing after opening the Athlete app.
We've fixed a bug with History calculations where the values weren't calculating correctly during data entry.
We've resolved an issue where the Add data button on the home screen would not work in offline mode if only a single event form had been downloaded for offline use.
We've resolved the issue of Performance standards not working in offline mode. Now, performance standards will appear during data entry where applicable.
If multi-factor authentication is enabled on your Smartabase site, we've updated the message shown when entering a code via an authentication app so that it no longer has an option to resend a code. If the code expires, you can retrieve a new one from the authentication app.
Highlights from your last Athlete app release notes
In the last release notes, for version 1.30.1 of the Athlete app, we announced:
Updates to the Offline use settings screen.
Bug fixes.
If you missed those release notes, you can read them here.