TrainingPeaks is a digital training platform which is compatible with over 100 fitness apps and devices including Fitbit, Polar, Garmin and ZWIFT. Smartabase integrates directly with TrainingPeaks so that you can store, report and visualize training data in Smartabase. This allows you to compare athletes' TrainingPeaks data and analyze it in conjunction with other data points across Smartabase, giving you a truly holistic approach to training monitoring.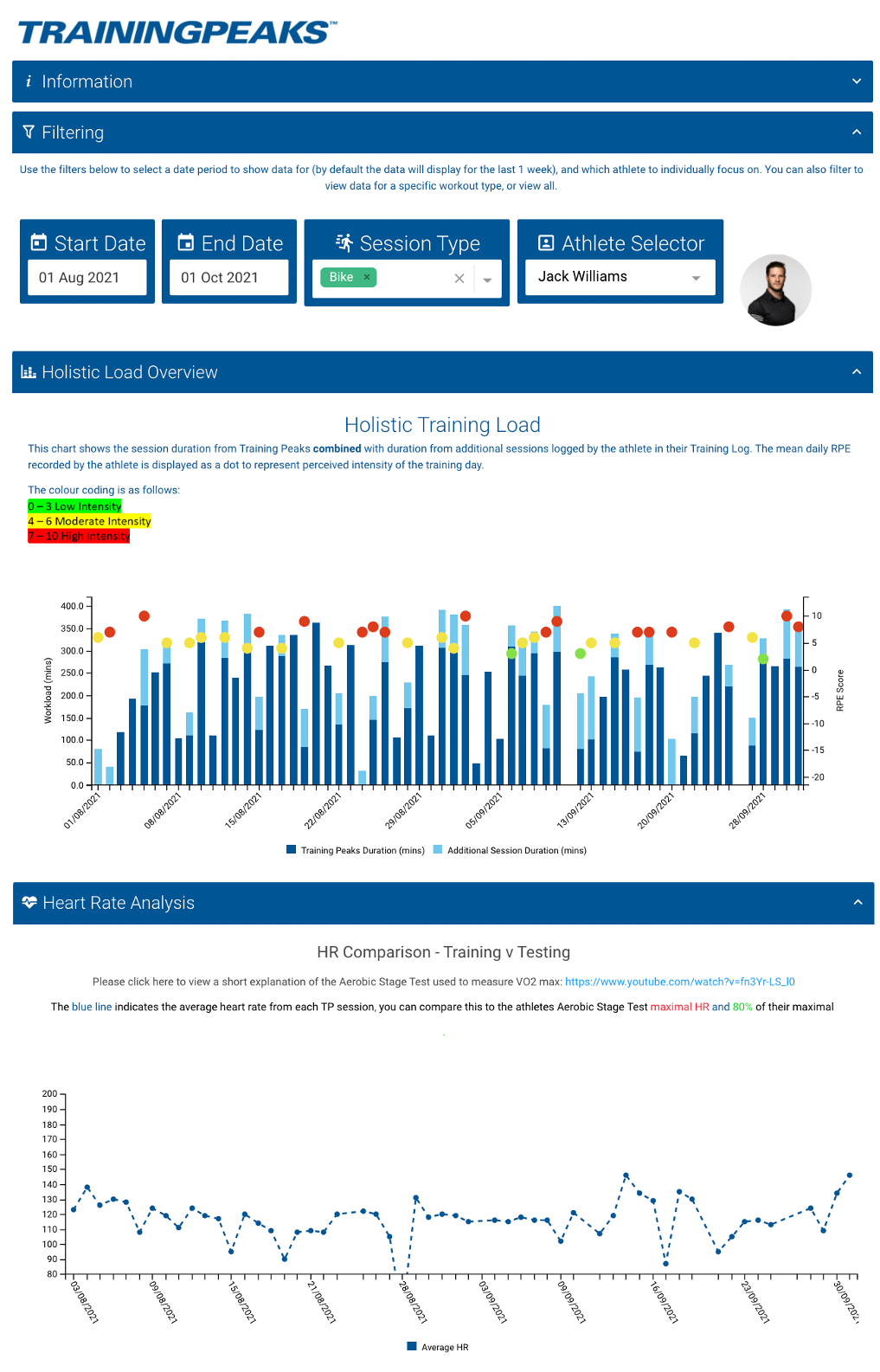 Setting up your Smartabase site to integrate with TrainingPeaks
What we need from you
Not much! Once you've confirmed you'd like to go ahead with the integration, one of us at Smartabase will set it up for you. Please contact your Smartabase consultant if you specifically want to connect Metric (wellness) data with Smartabase.
What Smartabase will do
Universally unique identifications (UUIDs) must be enabled for your Smartabase site so that the TrainingPeaks connector can identify which accounts people belong to. This is a setting in your site Application details, which can only be changed by the site owner.
Your Smartabase consultant will add the Training Peaks event form to your site. If connecting Metric data with Smartabase, the Training Peaks Metric event form will also be added. These forms will connect with and store all data from TrainingPeaks. You can work with your Smartabase consultant to ensure the appropriate roles have access to view this information, as well as any dashboards set up to visualize the data.
Three profile forms will also be added to your site. The Training Peaks Auth Portal profile is used by the TrainingPeaks account holders to authorize the data connection to Smartabase. The Training Peaks Coach and TrainingPeaks profiles also communicate with the TrainingPeaks connector, but do not need any interaction from you or your organization.
Please speak to your Smartabase consultant before adding any new fields to the above event and profile forms as it may have unintended consequences.
Once connected, Smartabase will synchronize TrainingPeaks data every 15 minutes. The connector gets Metrics (Wellness) events from the last seven days. When a coach initially authenticates via the Training Peaks Auth Portal, the connector will sync workouts from the last 90 days and Metrics data from the last 12 months.
How are people's accounts mapped between TrainingPeaks and Smartabase?
Coaches must authorize Smartabase to access TrainingPeaks data for each person's account via the Training Peaks Auth Portal profile form. Note that this process can only be completed after the TrainingPeaks connector is fully set up.
Coaches will need to complete the following steps:
Log into Smartabase Online (using Google Chrome or Mozilla Firefox). Ensure they've loaded a group that contains all the people that they're mapping.
Navigate to the Profiles tool.
Select the Training Peaks Auth Portal profile form.
Click the Authorisation link button. This will redirect the person to a separate web page where they can authorize Smartabase access to athlete data.
Once this process is completed, the person's Smartabase account will be authorized to connect to their TrainingPeaks data. No further mapping is required.