Notes first published April 12, 2022
Update available from April 12, 2022
We've released version 2.53 of the Dashboard builder to your Smartabase site. This release includes updates to the grid layout system, as well as some other minor improvements and fixes.
If you have any issues viewing your dashboards, please try clearing your browser cache.
Updates to the grid layout system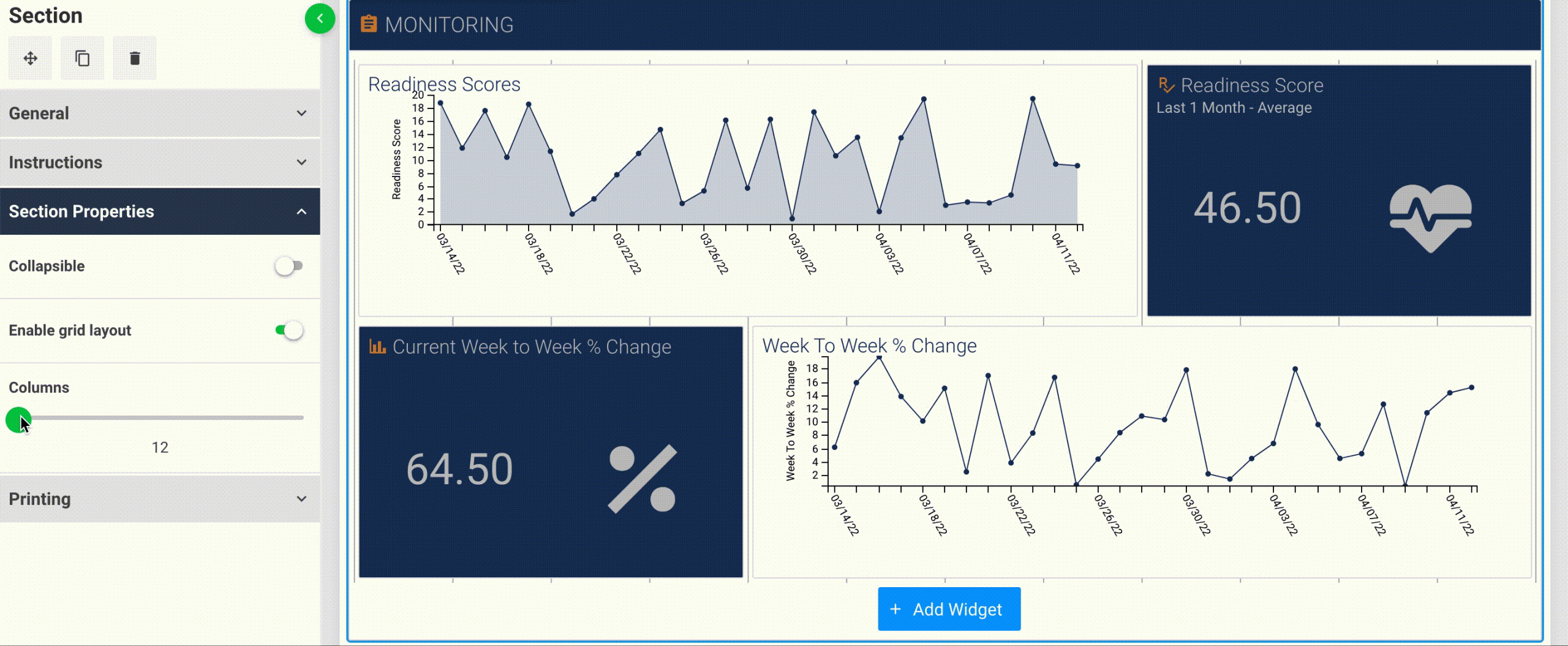 In v2.49 of the Dashboard builder, we released a new way to configure dashboards - the grid layout system. Since releasing this feature, we received lots of feedback on its usability. We have taken this feedback into account and have been working on updating the grid layout system to make it more intuitive and user friendly.
Previously, when changing the number of columns in a section, any widget inside the section would be resized and moved. Now, the widgets resize proportionally and hold their place within the section, similar to how removing and adding columns works with Table widgets.
In addition to this, gridlines are always displayed while you change the number of columns in a section, when previously they would change between being visible and invisible.
Lastly, titles now resize correctly when the section is set to Collapsed by default.
General improvements and bug fixes
We've added the ability to drag and drop rules in the Rulesets page of the Dashboard builder.
We've added tooltips to the undo and redo buttons.
We've updated the Data filters screen so that you can scroll if the number of filters exceeds the screen size.
We've fixed an issue where trellised Aggregation tables would sometimes fail to show data in some columns if the field didn't exist elsewhere in the dashboard.
Highlights from your last Dashboard builder release notes
In the last release notes, for version 2.52 of the dashboard builder, we announced the following changes:
Support for translating body diagram fields.
Updated sidebar properties for the Aggregation table widget.
Other minor improvements and fixes.
If you missed those release notes, you can read them here.