The BridgeAthletic platform enables coaches and trainers to utilize a built-in movement library or create and track their own custom exercises to quickly build dynamic programs with smart weight assignments and saved templates for their athletes.
With several shared clients across college sport, Olympic teams, elite training organizations and the military, Smartabase and BridgeAthletic have developed an API to enable data to be shared from the BridgeAthletic platform directly into Smartabase. If your organization uses BridgeAthletic, you can sync it to Smartabase to automatically include your strength and conditioning data in your training and performance analysis.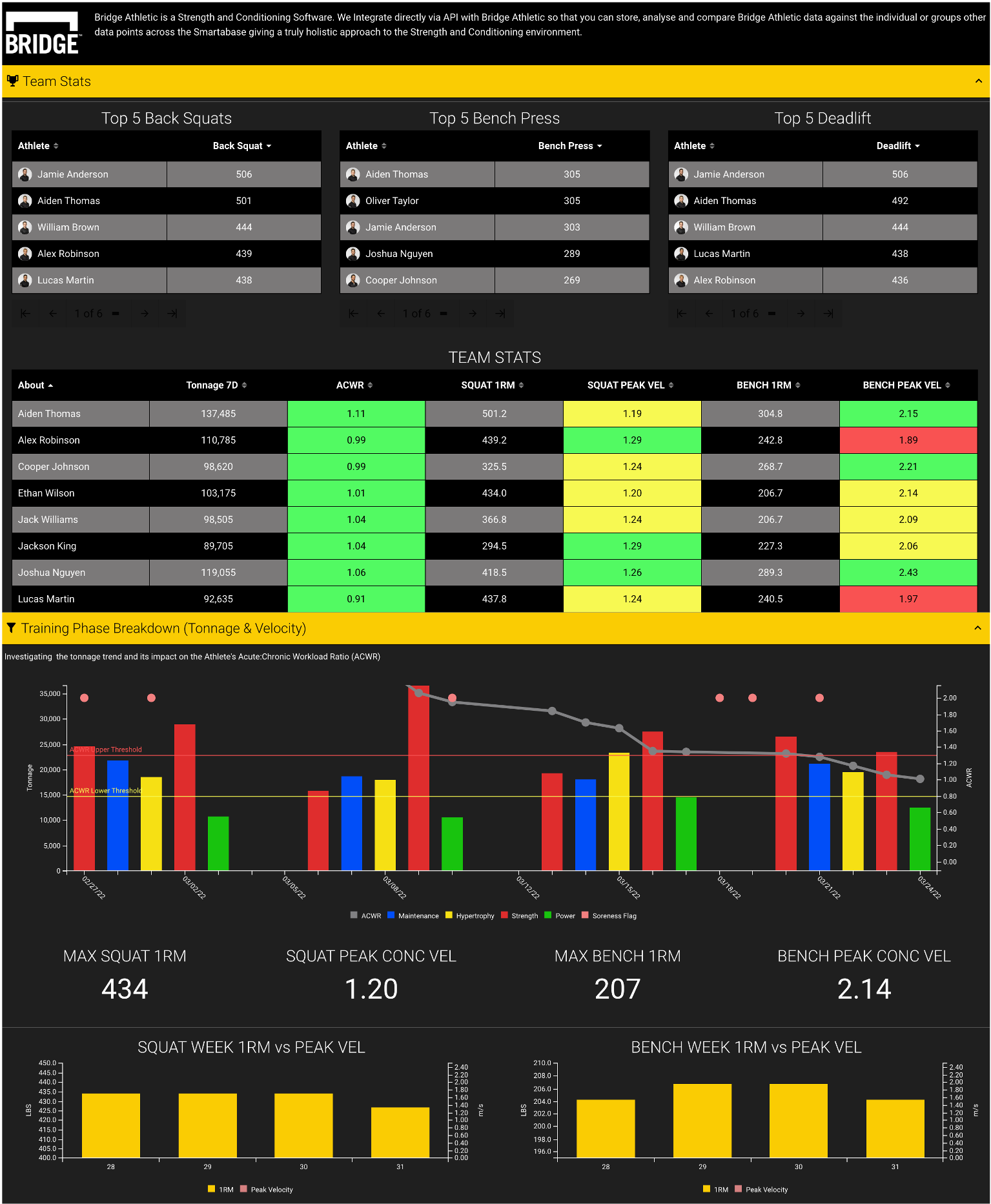 Within Smartabase you can look at reps, sets, tonnage and results for individual athletes as a base review of the data. For a deeper analysis, you can also combine this data with various other health and wellness information and data points to gain more meaningful performance insights.
Setting up your Smartabase site to integrate with BridgeAthletic
What we need from you
Not much! We'll just need you to reach out to your BridgeAthletic support contact and authorize Smartabase to access your BridgeAthletic data. We recommend you include your Smartabase consultant in these communications. Once you've confirmed you'd like to go ahead with the integration, one of us at Smartabase will set it up for you.
What Smartabase will do
Your Smartabase consultant will lodge a request for your site to be whitelisted and enabled for the BridgeAthletic integration. This will be completed by the Smartabase integrations team.
The Enable APIv1 access property must be turned on in your site's application details in order for the site to be whitelisted.
Your Smartabase consultant will add the following event forms and profile forms to your site. These forms will connect with and store the data from BridgeAthletic. You can work with your Smartabase consultant to ensure the appropriate roles have access to view this information, as well as any dashboards set up to visualize the data.

BridgeAthletic Workout Session event form.
BridgeAthletic Questionnaire event form (this form can be customized and duplicated based on any questionnaires you've set up in your BridgeAthletic platform).
Bridge Athletic profile form.
Please speak to your Smartabase consultant before adding any new fields to the BridgeAthletic Workout Session event form as it may have unintended consequences.
Once connected, Smartabase will synchronise BridgeAthletic data every 20 minutes.
How are people's accounts mapped between BridgeAthletic and Smartabase?
Smartabase will use account email addresses to identify people across the platforms. Therefore it's necessary that the email address recorded in BridgeAthletic is exactly the same as the associated Smartabase account email.