Notes first published March 9, 2022
Update available from March 9, 2022
View the Smartabase Administrator Release Notes here.
View the Smartabase Builder Release Notes here.
Version 6.11 of Smartabase Online is being gradually released right now and includes:
Choose dashboards as favorites
We have introduced the ability to set favorite dashboards using Smartabase Online. Similar to favorite events, favorite dashboards will be displayed as buttons on the home page so that you can quickly navigate to them. Note that your Smartabase administrator may need to enable this feature for you to see the favorite dashboards on your home page.

In the screenshot above, Jamie Anderson has set the Wellness and Training Monitoring dashboard as a favorite dashboard and the Daily Diary event form as a favorite event.
Favorite dashboards can be configured using the Account tool. For more information, refer to our article on Using your Smartabase Account Online.
Your favorite dashboards are specific to the Smartabase product you're using, so if you use Smartabase Online as well as the Athlete app, you'll be able to set different favorite dashboards for each.
Updated interface when choosing an event form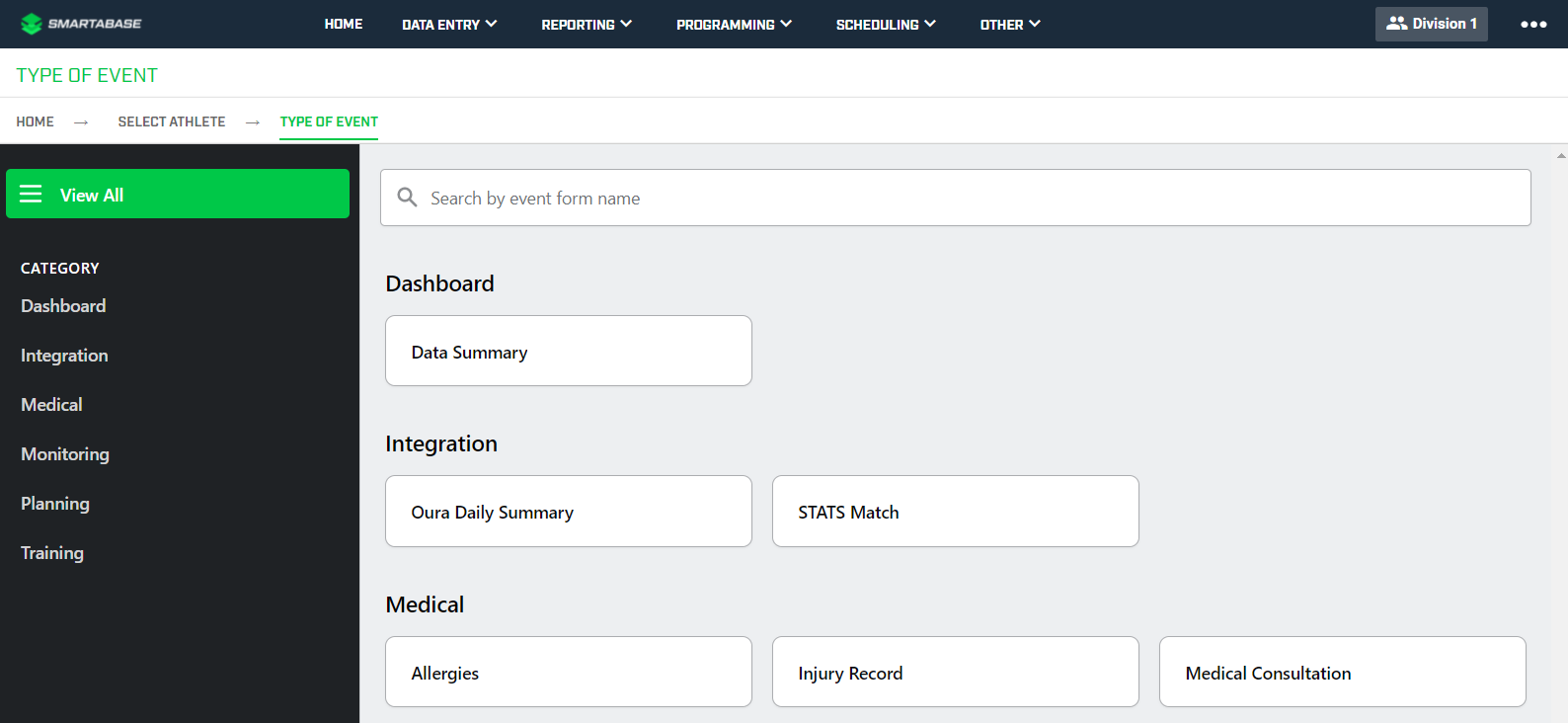 We have introduced a new, modern interface when selecting an event form in single or group data entry mode. You can look for an event form by using the search bar at the top of the page or by selecting a category in the sidebar to filter the event forms displayed. This update is an optional feature that your Smartabase consultant can enable for your site.
General improvements
It is now possible to delete table rows that have been pasted into a record from the clipboard or a template.
To improve performance, we've updated the way that calculations are handled when you save an existing event form record.
Bug fixes
We've resolved an error with D3 templates not loading with the new dashboard interface introduced in 6.10.
We've fixed an issue that was preventing people from entering a Last name that only has one character.
All PDF files that have been uploaded to records can now be previewed in the pop-up window within Smartabase Online.
We've fixed some smaller issues that were preventing some people from using multi-factor authentication.
We've resolved an error caused by using a template to create a new record and then navigating to an Embedded event record from the record.
We've resolved an issue where some files were unable to be uploaded to a record.
We've resolved an issue in the Reports tool where identical, consecutive table rows in event forms were being collapsed into one row. Now, each individual table row will be displayed in reports.
Updates between 6.10 and 6.11
6.10.4 - available from December 24, 2021
In response to a vulnerability discovered in log4j2, we promptly updated the library files that we use to handle various forms of logging on our servers in the 6.10.4 patch release.
Highlights from your last Smartabase Online release notes
In the last release notes, for version 6.10 of Smartabase Online, we announced:
Updates to the dashboard selection UI.
Ability to group dashboards by category.
Overall performance improvements.
If you missed those release notes, you can read them here.