Apple Health is an iOS app that tracks people's key health metrics such as sleep, activity and heart rate. These metrics can be automatically synced to Smartabase where they can be viewed alongside other metrics being collected for a more holistic view of a person's health profile. This information can then be utilized by high performance staff to assist in decision making that could reduce risk and optimize performance.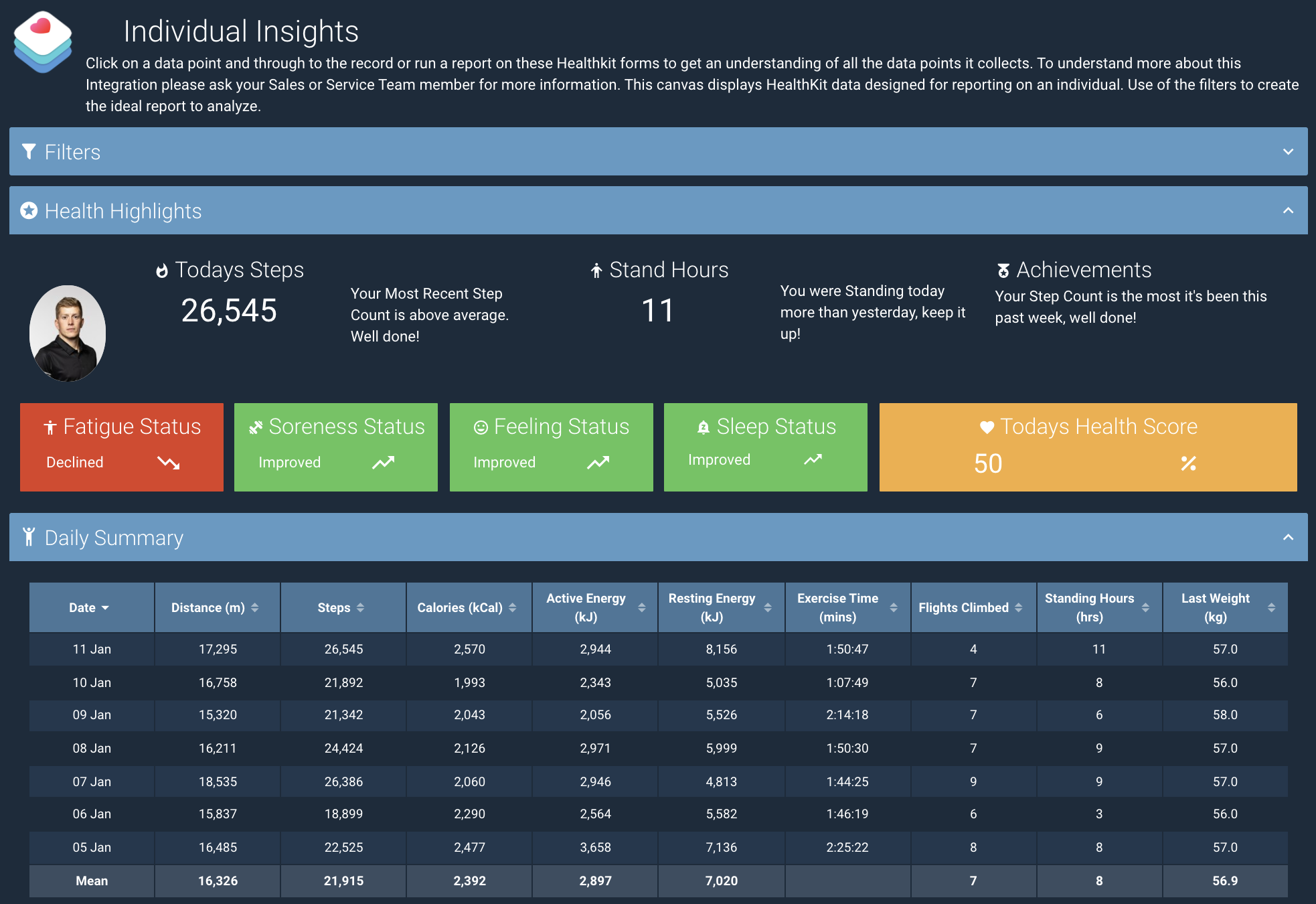 Setting up your Smartabase site to integrate with Apple Health
What Smartabase will do
Your Smartabase consultant will add the following event forms to your site. These forms will connect with and store data from Apple Health. You can work with your Smartabase consultant to ensure the appropriate roles have access to view this information, as well as any dashboards set up to visualize the data.
HealthKit Activity
HealthKit Measurements Summary
HealthKit Menstruation Summary
HealthKit Mindfulness Summary
HealthKit Nutrition Summary
HealthKit Sexual Activity Summary
HealthKit Sleep Summary
Please speak to your Smartabase consultant before adding any new fields to the above event forms as it may have unintended consequences.
What we need from you
Once you've confirmed you'd like to go ahead with the integration, one of us at Smartabase will set it up for you. When it's ready to go, your users will need to enable the integration on their iPhone. For instructions on how to enable Apple Health on the Smartabase Athlete app, check out this handy guide.
Once connected, Smartabase will synchronize data from Apple Health in the background, provided the below is true:
The person's Smartabase account has access to the event forms used to save their data.
The Athlete app has access to the person's Apple Health data and all Health categories are enabled.
Background app refresh is enabled in the person's iPhone settings.
Remember site and username and PIN are enabled in the Athlete app.
The person's iPhone device is unlocked. Note that Apple Health data becomes inaccessible when an iPhone device is locked.
After the initial set up of this integration, the previous 90 days worth of data will be synchronized automatically. Future manual or automatic synchronizations will collect the previous seven days worth of data.