This integration guide is specifically for the Catapult vendor connector, which is set up and managed by Catapult. To view the article on the Catapult Smartabase connector, click here. We recommend using the Smartabase connector for any integration with Catapult, because our integrations team can actively maintain it for you.
This integration may come with an additional cost from Catapult. For more information, please speak to your Smartabase consultant.
Catapult GPS is used widely across a range of sporting codes, such as rugby, Australian football, American football, soccer and baseball. Catapult's independently validated wearable technology can help coaches prepare their athletes for competition and effectively manage their training workloads. Integrating Catapult or other wearable technology data provides opportunities for directly comparing objective workloads and exertion to other information stored in Smartabase. For example, you could overlay injuries with daily distance or workload to better understand the loads an athlete may have been experiencing around the time of an injury.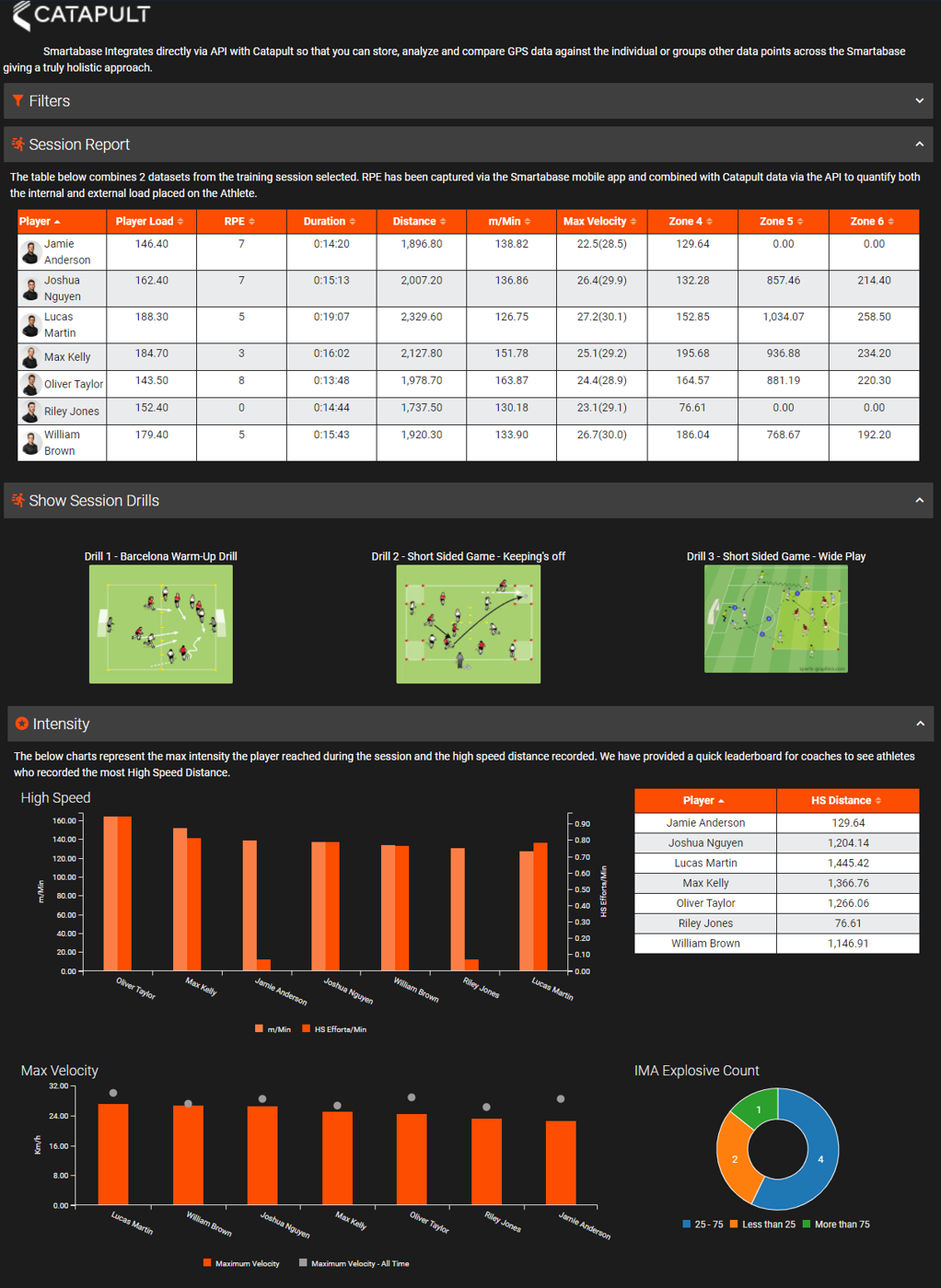 Setting up your Smartabase site to integrate with the Catapult Vendor Connector
What Smartabase will do
Your Smartabase consultant will add the Catapult Session event form to your site, which will connect with and store all data from Catapult. You can work with your Smartabase consultant to ensure the appropriate roles have access to view this information, as well as any dashboards set up to visualize the data.
Please speak to your Smartabase consultant before adding any new fields to the Catapult Session event form as it may have unintended consequences.
What we need from you
Once you've confirmed you'd like to go ahead with the integration, one of the Smartabase team will set it up for you. After the process is complete, your Smartabase consultant will provide you with some account credentials. Once you've received these credentials, complete the following steps:
Contact Catapult support to enable the Smartabase functionality in your OpenField account.
Log into the OpenField cloud.
In the Teams settings, select the team you'd like to integrate with Smartabase.
Enter the following details into the respective fields:

Smartabase Endpoint (site location)
Smartabase Form Name
Smartabase Username
Smartabase Password

Once the connection has been established, you can synchronize all your historical data by going to the Smartabase settings in OpenField. Any new data will automatically synchronize with Smartabase as soon as it's uploaded to the OpenField cloud.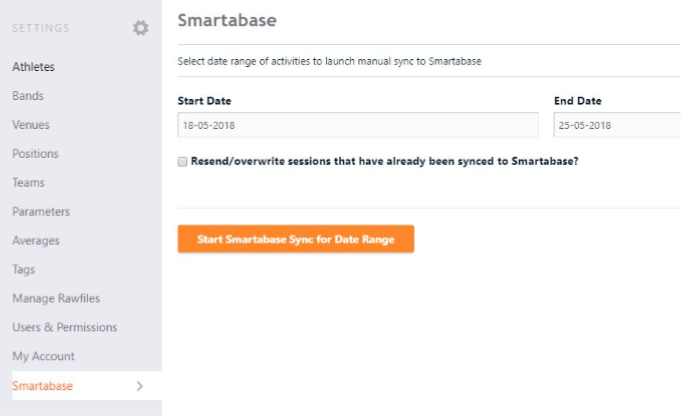 How are people's accounts mapped between Catapult and Smartabase?
Smartabase first checks the Known As field to map people's accounts between the platforms. If no information exists in this field, it will instead use First Name and Last Name.