Fatigue Science combines wearable technology with biomathematical science from the US Army Research Laboratory to offer insight into sleep and fatigue. The Fatigue Science wearable ReadiBand collects information on the quality and quantity of sleep to provide you with data related to fatigue, cognitive effectiveness and readiness to perform.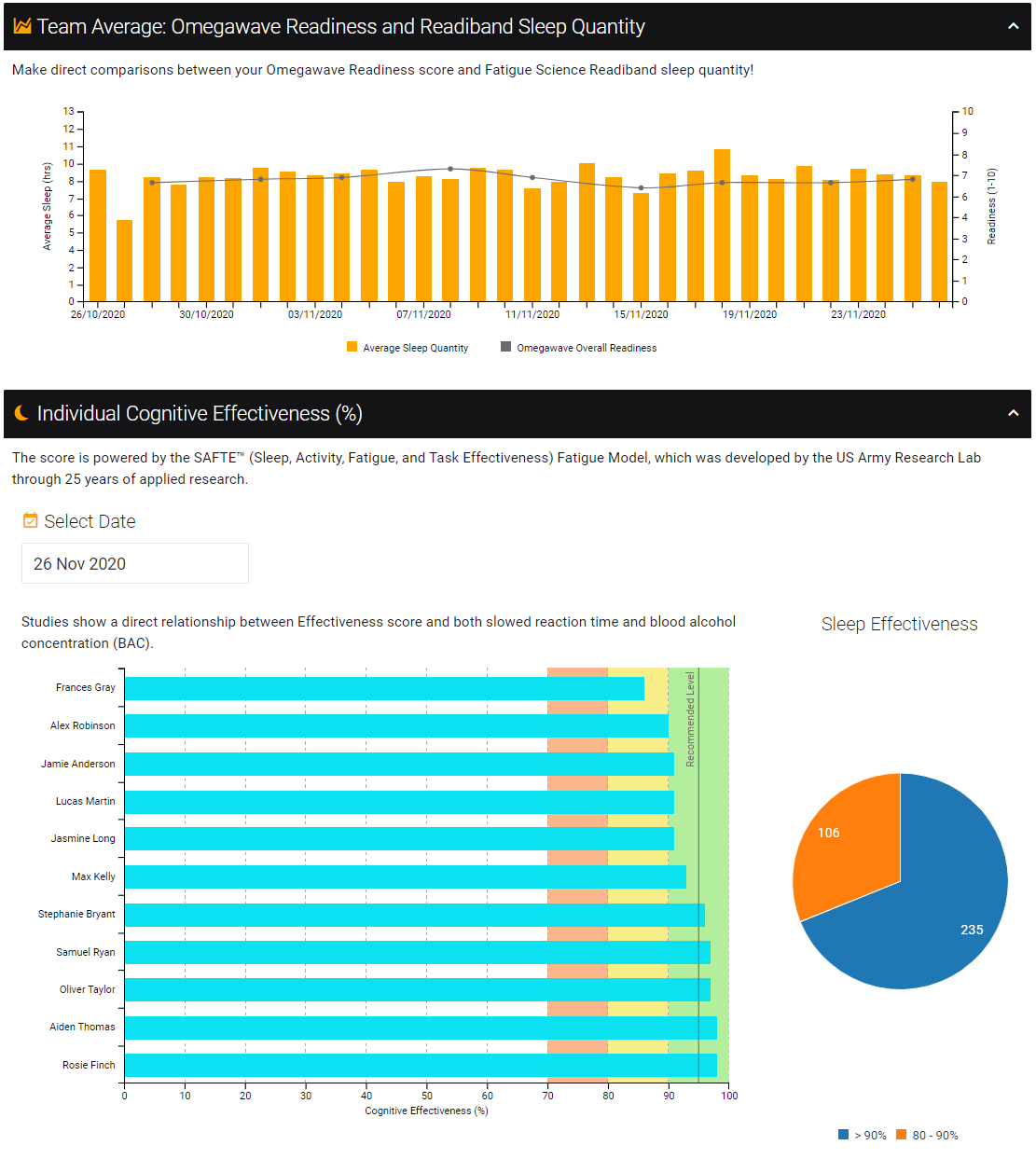 You can integrate your Fatigue Science platform with your Smartabase site through an API to automatically synchronize your athletes' sleep and fatigue data. Within Smartabase, the data can be combined with the various other performance metrics being measured for a more holistic view of readiness to perform. This information can then be utilized by high performance staff to assist in decision making that could reduce risk and optizise performance.
Setting up your Smartabase site to integrate with Fatigue Science
What we need from you
Not much! Once you've confirmed you'd like to go ahead with the integration, one of the Smartabase team will set it up for you.
What Smartabase will do
The Smartabase integrations team will communicate with a Fatigue Science representative to complete the necessary steps for connection within the Fatigue Science platform.
Your Smartabase consultant will add the Fatigue Science Sleep Day event form to your site. This form will connect with and store all data from Fatigue Science. You can work with your Smartabase consultant to ensure the appropriate roles have access to view this information, as well as any dashboards set up to visualize the data.
Please speak to your Smartabase consultant before adding any new fields to the Fatigue Science Sleep Day event form as it may have unintended consequences.
Once connected, data will synchronize with Smartabase instantaneously.
When Fatigue Science data syncs into the Fatigue Science Sleep Day form each day, the date of the record will be for the previous day. This means the sleep value recorded against a particular day (e.g. Monday) is for the evening of that day of the week (e.g. Monday night).
How are people's accounts mapped between Fatigue Science and Smartabase?
Smartabase will use account email addresses to identify people across the platforms. Therefore it's necessary that the email address recorded in Fatigue Science is exactly the same as the associated Smartabase account email. If there are any accounts missing email addresses in the Fatigue Science platform (they are optional) then it uses the person's first and last name.