Notes first published December 2, 2021
Update available from November 26, 2021
View the Smartabase Online Release Notes here.
View the Smartabase Builder Release Notes here.
Version 6.10 of Smartabase is being gradually released right now and includes improvements to the administration interface, overall performance improvements and bug fixes.
Improvements to the administration interface
We are starting to make improvements to the administration interface, particularly around better performance for our larger clients. This release sees the first change in that space.
The Object ownership tool now displays paged results to help with reduced load times if there are a lot of objects.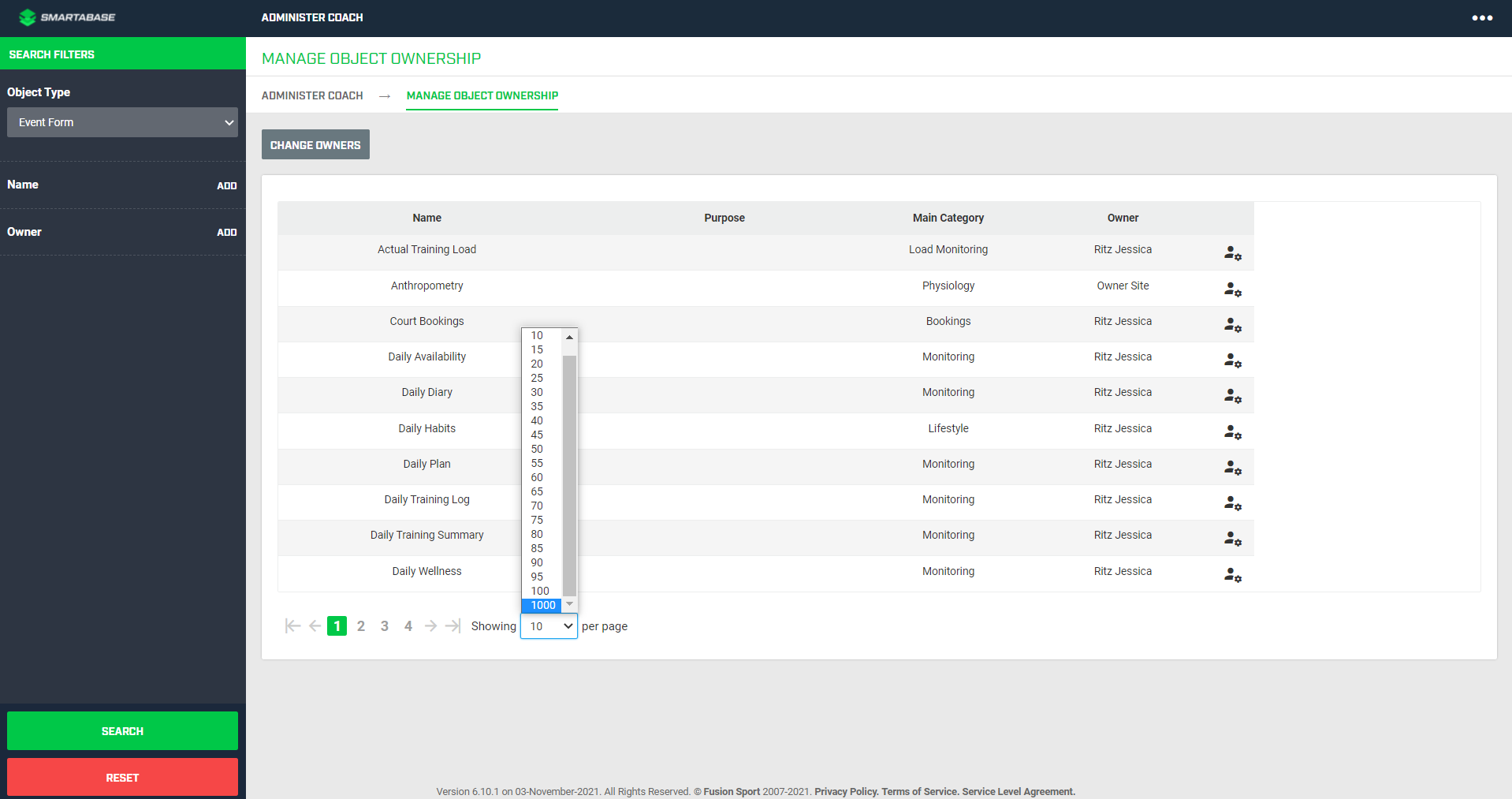 General improvements
We've improved our server logging capabilities so that we can better understand what is happening behind the scenes on your server.
We've made further improvements to queue management, including being able to selectively restart queues if required.
We've decreased the pagination page limit on lists within the administration interface to improve performance. A maximum of 1000 items can now be displayed per page.
We now require that all traffic coming over API v2 must specify a current or expected version. This allows us to begin to offer up different responses from the server based on that version, which will in turn allow us to maintain much better backwards compatibility support moving forward.
Bug fixes
We adjusted the behavior of the Partial edit permissions system permission so that professional users cannot edit the email address of non-professional users.
We've fixed an issue where user accounts with a null date of birth value were generating an error message.
We've resolved an issue where integrations that can delete records from Smartabase on enterprise configuration were causing errors and banning the connector account.
Highlights from your last Smartabase release notes
In the last release notes, for version 6.9 of Smartabase, we announced:
A new favicon and more modern fonts.
Performance and load handling improvements.
Support for LastPass.
If you missed those release notes, you can read them here.