The single athlete field allows a professional user to tag another person in a record. It can also be used to create a clone of that record for the tagged person, if enabled.

To use this field, fill out an event form entry for one person and then select another person with the single athlete field. You do not need to select the person who you are currently completing the record for.
If the event form is set up to create cloned records for the tagged person, records will show in reports and performance history for each of the selected people, with the tagged person listed in the single athlete field. Selecting the record allows the entries to be opened and edited in single or group mode. In group mode, either of the entries can be edited and updated individually.
To enable the single athlete field, ensure that the person's role contains the Edit athlete fields system permission. To create a cloned record for the tagged person, adjust the Athlete fields form advanced property to Create event for athlete.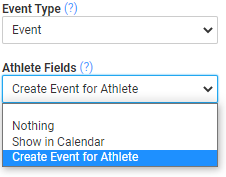 To tag more than one other person, check out the multiple athletes field.