Notes first published March 16, 2021
Update available from March 16, 2021
View the Smartabase Online release notes here.
View the Smartabase Builder release notes here.
Version 6.8 of Smartabase is ready to launch! This release includes new features which improve the login experience for those using multi-factor authentication (MFA).
The work we've been doing to improve Smartabase is significant and we want to be sure each of our customers has a smooth experience during the upgrade from version 6.7 to 6.8. This means we'll be releasing version 6.8 gradually for all of you through the coming weeks.
Improved multi-factor authentication set-up process
We've made some significant changes to your process for setting up MFA . When you first log in to Smartabase, you'll see prompts to set up an appropriate channel for your MFA codes (email, SMS and/or an authentication app). You'll also have the opportunity to test your communication preference to ensure your account is set up correctly.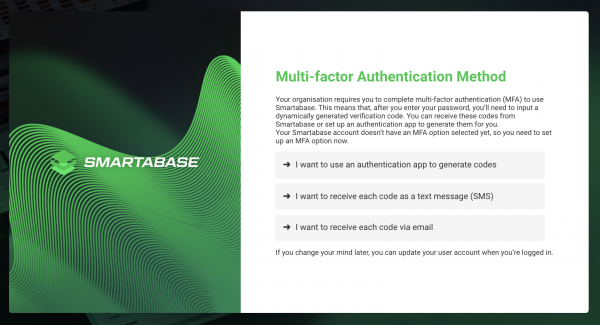 We've also included backup MFA codes for situations when you're unable to use your usual communication method.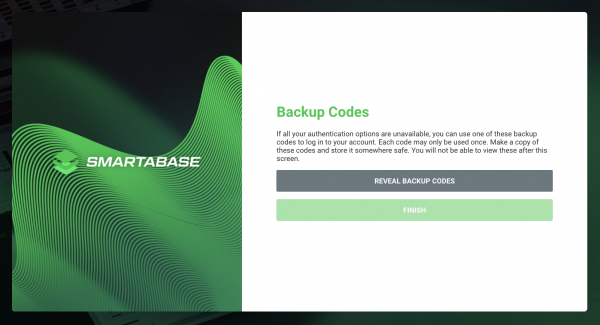 General improvements
We've improved the styling of the site switching feature (enterprise sites only).
The multi-factor authentication key is no longer visible on the account screen. If users need to set up an authentication app, they will need an administrator to reset their MFA key for them.
Highlights from your last Smartabase release notes
In the last release notes, for version 6.7 of Smartabase, we announced:
A new tool for restriction policies to prevent editing of selected fields and sections.
The ability to ban specific passwords and password patterns.
A faster way to view and dismiss system notifications.
Automatic reloading of the login screen after you log out, so you can come back to Smartabase more easily.
If you missed those release notes, you can read them here.