Notes first published November 25, 2020
Update available from November 25, 2020
View the Smartabase Online release notes here.
View the Smartabase Builder release notes here.
We've been working hard getting version 6.7 of Smartabase ready for you to use. This release includes more ways to give the right people relevant information, new options to encourage good password habits and user experience improvements. Here's a short list of what's new:
Set up restriction policies to prevent editing of selected fields and sections
In this release, you'll find a new administration tool for restriction policies. We designed this tool so that administrators can make more granular decisions about which parts of event forms and profile forms people can edit. Previously this could only be set directly via someone's role, which was limited to giving access on a form by form basis. Now you can apply restriction policies to roles, and then assign that restriction policy to individual fields and sections within a form.
In this example we're looking at an event form used to collect a brief summary of a new injury. We've assigned a restriction policy called Physio Policy to the Physio Details section of the form, which means only people with a role that includes this policy will be able to edit the fields in this section. The policy would be assigned to a role for physiotherapists, so the athlete and other staff members couldn't update this section of the form. A similar restriction policy could be set up for a coaching role, so only coaches could edit the Coach Details section.
Ban specific passwords and password patterns
As part of ongoing enhancements to password management, we've added two new configuration options when managing password policies. Now you can upload lists of custom patterns and passwords, which will stop people from creating insecure passwords. In addition to the option to ban common patterns like 12345 and qwerty, the custom patterns option lets you add items of your choice, so, for example, you can prevent people from using your organization's name or their team name in their password.
When you ban passwords, only the exact items that you've included in the file will be banned; people can still use these items as a part of their password or with different capitalization. For example, if you add Pineapple!! as a banned password, someone would still be permitted to use Pineapple!!1, pineapple!! or Pineapple! when setting up their password.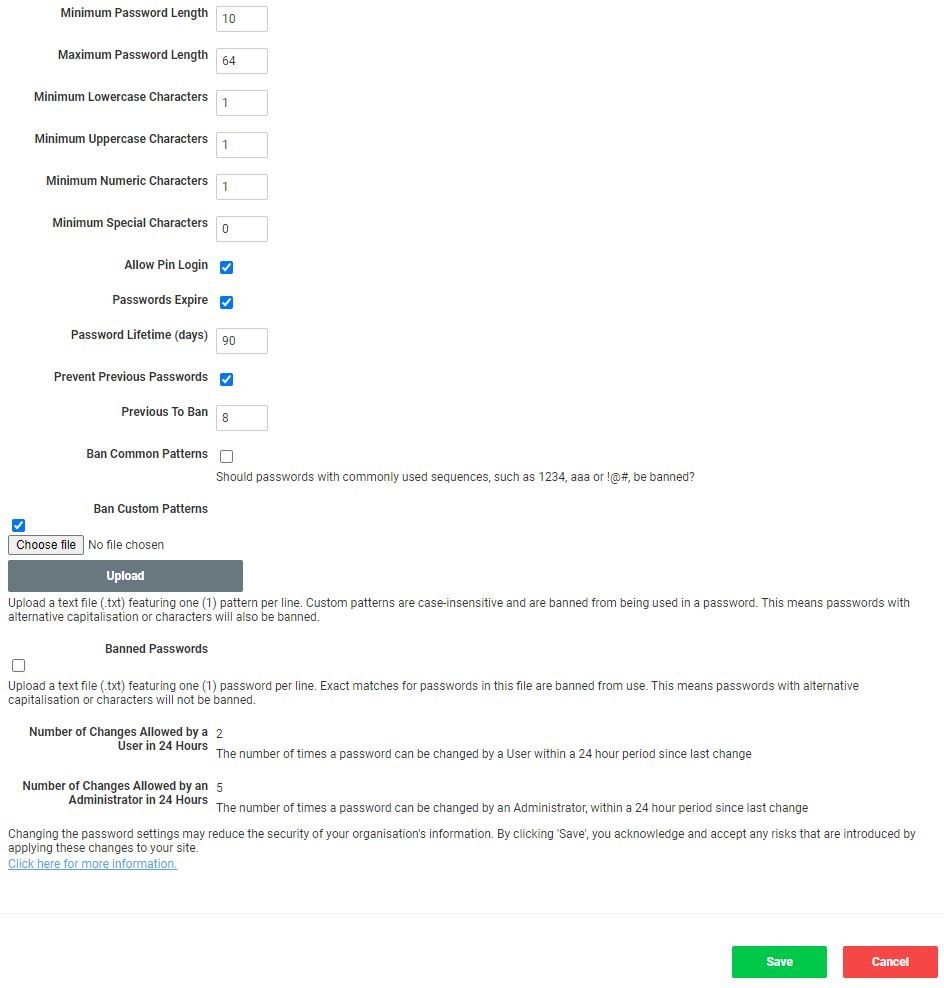 Quickly view and dismiss system notifications
System notifications commonly appear when you complete an action or an error occurs when you're using Smartabase in your browser. We received feedback that system notifications sometimes interfered with navigating through Smartabase, and it wasn't clear that clicking on a notification would close it. As part of this release, we've moved system notifications to the bottom right-hand corner of the screen, which keeps the rest of your screen clear to use other Smartabase tools. We've also added a close icon to the notification box, so it's even easier to dismiss the message once you've seen it.
We've also added the ability to customize the message duration. If you'd like to change the default notification duration time on your site, please get in touch with your Smartabase consultant.
Come back to Smartabase more easily
Like the enhancements to system notifications, this update focused on improving the look and feel of Smartabase. Now when you log out of your account you will be automatically taken back to the log-in screen, instead of having to click to reload the page.
General improvements and bug fixes
We've updated the licence audit tool to include the email address for each user account on your Smartabase site. This means administrators can easily create a CSV file that includes user account information (username, name, email, date of birth etc.) alongside Smartabase access details (builder, administrator, team administrator and coach permissions, group membership, roles and last login date).
All Smartabase notification emails (such as password resets, performance alerts, daily reminders and more) now come from noreply@smartabase.com. We made this change to reduce unnecessary responses to our support email and to encourage members of your organization to reach out to you for support that's specific to your Smartabase site.
When you update account details via the user account page (either for your own account or as a coach with the required access to update someone else's details), you're required to enter your password to confirm the updates. Now, if you accidentally enter the wrong password, you'll be able to try again instead of being logged out of the system.
To support upcoming functionality for the Smartabase Athlete app, we've added the ability for administrators to see which devices are currently logged in (via single sign-on) to the Athlete app for each person's user account . This information can be seen when viewing a user account from the people tool.
We've increased our support for people using Smartabase in Simplified Chinese, Dutch, French, German, Spanish and Korean. More of the Smartabase elements that you interact with have been professionally translated. Please remember that anything you build or set up in Smartabase yourself (such as event form names, dashboard instructions or performance alert messages) needs to be translated separately from the default Smartabase labels. You can get in touch with your lead Smartabase consultant to assist with this process.
If your Smartabase site has registration enabled, people will now see the list of default roles displayed in alphabetical order.
We've made improvements to Smartabase's queuing system to decrease the processing time when historical calculations are used.
We've removed the Delete button for user accounts that team administrators are not permitted to edit.
We've fixed an issue that caused daily reminders to be sent at midnight on the first day after they'd been set up. Now they'll be sent at the designated time or 15 minutes after being set up if the designated time is earlier in the day than the time you created it.
We've addressed an issue that was slowing down smart flows with the Date type set to Period.
Highlights from your last Smartabase release notes
In the last release notes, for Smartabase version 6.6, we announced:
The option to send daily reminders according to the recipient's time zone.
The ability to disable PIN use as a password policy option.
Improvements to the handling of multi-factor authentication codes sent via SMS.
A new workflow for enterprise servers that improves the process of switching between sites.
Improved support for using Smartabase in three new languages: Dutch, Spanish and French.
If you missed those release notes, you can read them here.