Notes first published February 13, 2020
Update available from February 13, 2020
View the Smartabase Online release notes here.
View the Smartabase Builder release notes here.
At Smartabase, we take your privacy seriously and continue to release features which empower you to control your data. Version 6.3 of Smartabase is ready for you to explore and contains important new functionality for your terms and consent management features.
The new features included in this release are focused around ensuring that you and your colleagues can easily understand and manage the relationship between your use of Smartabase and your organization's goals.
We're working hard to prepare Smartabase for use in ever-more novel and demanding ways by our growing human performance community. In addition to the terms and consent management upgrades, this particular release contains behind-the-scenes performance enhancements and fixes for several user interface issues, a problem affecting the behavior of linked data, as well as a series of smaller issues.
We have also included information about the 6.2.22 patch, which was released between 6.2 and 6.3.
Increased transparency and consent management
When you use Smartabase from the web application, desktop application or mobile application (but not yet the Smartabase Athlete app), you're able to review the terms of service your organization has set up for you from your user account. Each terms document you've consented to can be opened and viewed at any time, not just when you originally agreed to the terms of service.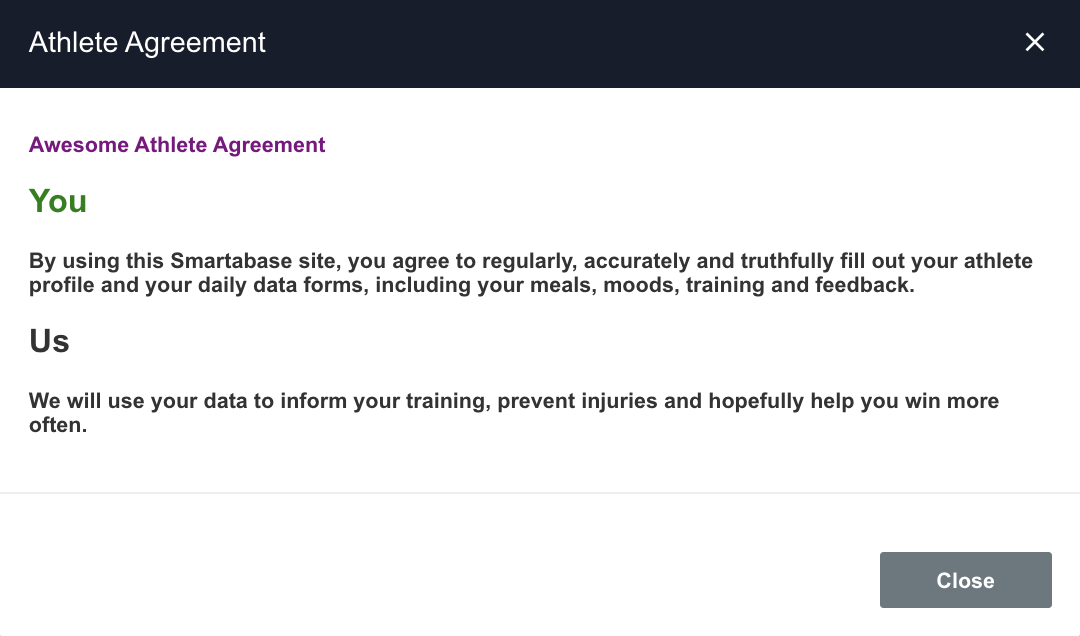 We've also provided the option for you to withdraw your consent to any or all terms that you've previously agreed to. When you choose to reject the terms of service for your Smartabase site (confirmed by saving the changes to your account), you're automatically logged out of Smartabase. If you change your mind later, or your organization updates its terms of service to ones you can consent to, you will see these terms as part of the login process.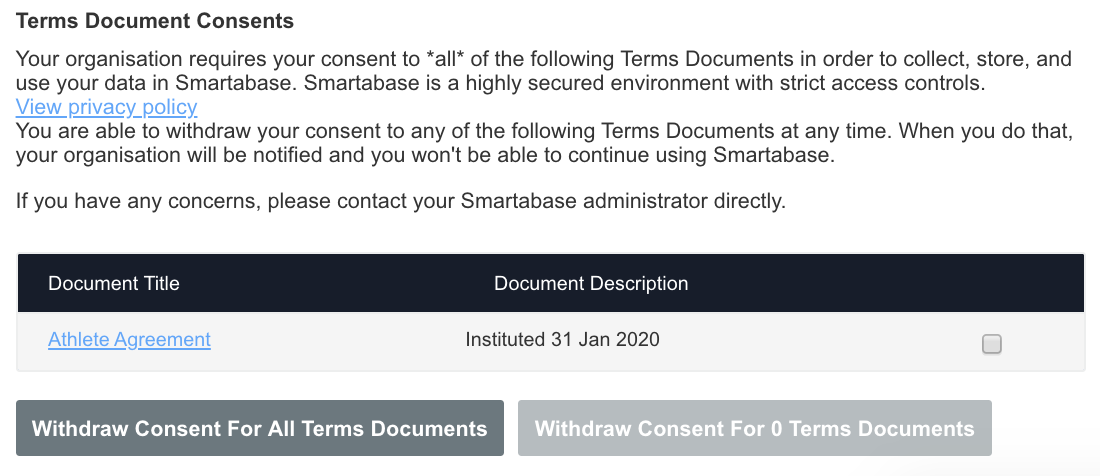 At an organizational level, you can provide Smartabase with the email for your privacy offer in order for them to be alerted if someone withdraws their consent to the terms of service for your Smartabase site. Talk to your Smartabase consultant when you want this set up - it's a simple job for them to update your site configuration with this information.
Administrators can now see more detailed consent information when auditing terms documents - the date, time and action taken (consent to the terms or rejection of the terms) for each person who's interacted with any terms document.
There are two exceptions to the terms which are available for review, consent management or auditing:
Terms documents which have been archived are not visible from your user account or auditable by administrators, even if you previously agreed to them, because archived terms are no longer in force.
Terms documents which have been set to Always Accept mode are not visible from your user account or auditable by administrators, because you're asked for your consent to this type of terms agreement every time you log in or refresh your Smartabase session.
General improvements and bug fixes
Updates between 6.2 and 6.3
6.2.22 - available from January 16, 2020
This patch release contains a small adjustment designed to resolve an issue that caused Smartabase to crash for some customers under high load.