Notes first published March 16, 2021
Update available from March 16, 2021
View the Smartabase Online release notes here.
View the Smartabase Administrator release notes here.
Version 6.8 of Smartabase is ready to launch! This release includes new features which improve the login experience for those using multi-factor authentication (MFA) and provide more customization options when it comes to saving records. Here's a short list of what's new:
The work we've been doing to improve Smartabase is significant and we want to be sure each of our customers has a smooth experience during the upgrade from version 6.7 to 6.8. This means we'll be releasing version 6.8 gradually for all of you through the coming weeks.
New layout and capabilities for save properties
When you're building a form, you'll see save properties located in their own sidebar section. You can now configure save buttons to work with restriction policies and usage criteria to make sure that each record is saved, locked and exported by the right people at the right time.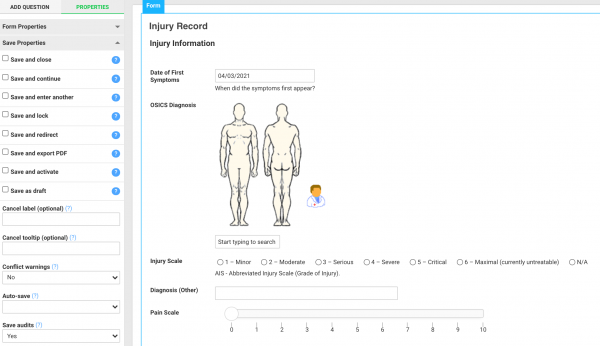 You can apply a restriction policy to each save button, so that only people with that policy as part of their role can use the save button. You can also set up usage criteria for save buttons to allow their use once specific data has been entered into the form (previously this was only available for the save and lock button).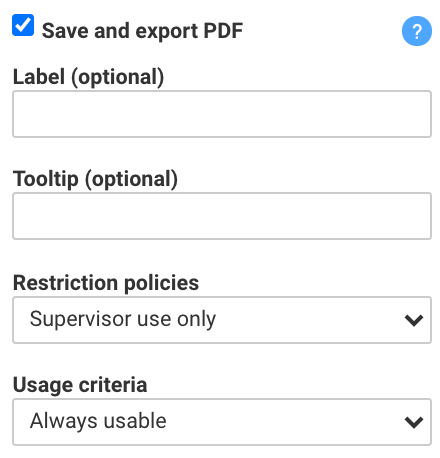 When your Smartabase site is updated from version 6.7 to version 6.8, any properties that were set using the old advanced property layout will be migrated to use the new save properties. Nothing about the save behavior of your forms should change with the release except your ability to make additional customizations.
Calculate exponentially weighted moving average
We've added a new function for history calculations to determine exponentially weighted moving average (EWMA). The historicalewma function calculates the EWMA of a value based on the number of days in the decay period (i.e. the decay constant) and the event date as a date calculation.
To calculate the EWMA of Total Training Load using a decay constant of seven days, you could use the following formula:
historicalewma(Total Training Load, Historical Total Training Load, Date Calculation, Historical Date Calculation, 7)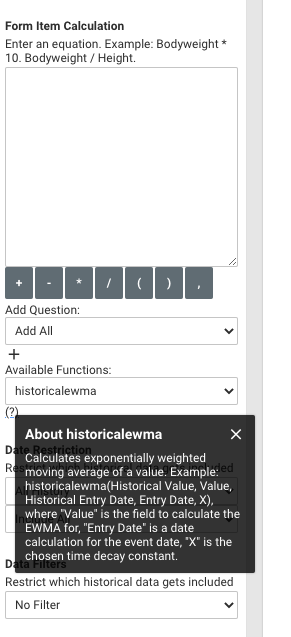 General improvements and bug fixes
We've improved the styling of the site switching feature (enterprise sites only).
We've fixed an issue where table fields were showing in PDF reports, even if the field was set up to not show in PDF reports.
Previously, a record could not be saved if there was a hidden table in the form containing required fields. This has now been resolved.
We've fixed the label for the properties used to set minimum and maximum character limits on single line text fields.
We've also fixed a label for an event form drop-down selector in the data import process.
Highlights from your last Smartabase release notes
In the last release notes, for version 6.7 of Smartabase, we announced:
A new tool for restriction policies to prevent editing of selected fields and sections.
A faster way to view and dismiss system notifications.
Automatic reloading of the login screen after you log out, so you can come back to Smartabase more easily.
If you missed those release notes, you can read them here.