Notes first published September 1, 2020
Update available from September 1, 2020
View the Smartabase Builder Release Notes here.
View the Smartabase Administrator Release Notes here.
Version 6.6 of Smartabase is on its way to your site. This release combines valuable updates to existing tools with user experience improvements for everyone. Here's a short list of what's new:
Download files in bulk from the reports tool
Up until now, there has been no way to download multiple files at once from one or more records of an event form - each file had to be selected and downloaded individually. To streamline this behavior and save time for our customers, we've added a feature to the reports tool (under the export button) and the performance history page. The download files feature allows you to download all of (or a custom selection of) the files contained in any of the records included within your report filtering. This includes files stored in file upload fields (single file uploads and multiple file uploads) and form attachments. The files are exported as a .zip folder, allowing you to review them externally and share with others.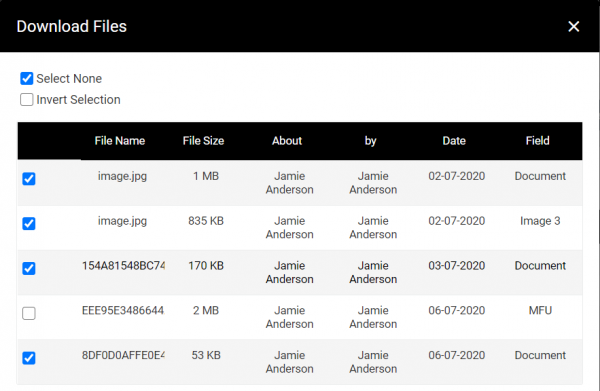 To access the download files feature, you will need a role with the new download all files system permission. You can speak to your site administrator or your Smartabase consultant to have this permission applied. The feature must also be enabled via your Smartabase consultant in your site's application details.
There is a limit to the number of files, as well as to the size of the overall download, to mitigate any risks to Smartabase's performance. This simply means that collections of files which exceed this limit will need to be downloaded in separate actions.
Multi-factor authentication (MFA) code SMS delivery enhancements
For people who receive MFA codes via SMS, we've made an adjustment to how and when these messages are sent. Specifically, MFA text messages will now bypass the message queue, which will result in quicker delivery times overall. This enhancement was made as a result of reports that MFA codes were taking longer than expected to be received.
While this will improve the speed of MFA code delivery on the Smartabase side, we cannot guarantee specific delivery times as this will also depend on the person's phone/network provider.
Internationalization enhancements for Dutch, French and Spanish
We've made some further improvements to how we handle and support languages other than English. This is part of a large ongoing project to make Smartabase more accessible in different languages, with Dutch, French and Spanish now approaching completion. These updates are specifically related to ensuring all remaining aspects of Smartabase have their own localization. Updates will be applied for Dutch translations with the initial release of version 6.6, and the French and Spanish updates will be added soon after via a patch release.
General improvements and bug fixes
We've fixed an issue where push notifications weren't being received on iOS devices.
We identified and rectified an issue that affected people who tried to upload files following a change to their IP address during a session.
We've resolved an issue where videos would not upload to Multiple file upload fields for some macOS users.
We received feedback that some user account fields were being removed when the account was deactivated due to too many failed log-in attempts, specifically when using single sign-on to log in. This has now been resolved.
A recent update resulted in some minor inconsistencies when setting filters in the reports tool. The Include all option now displays correctly for all filtering selections.
For some clients using external video functionality, we've resolved a couple of issues related to setting up new video repositories via the administrator interface and saving new entries into the repository.
We've addressed an issue where files that had been exported from Smartabase via CSV could not be reimported by the person who hadn't exported the data.
Previously, the Sidebar system permission was needed to show critical information in the athlete (right) sidebar. Now, you only need the Athlete Sidebar system permission for this to display.
We've resolved an issue resulting in an unexpected error appearing in group entry mode when clicking in a cell of the table that cannot be edited, in particular with forms that contained multiple table rows.
Image type fields were not adhering to their default to last value settings, which we've resolved in this release.
In certain text summary calculations, raw HTML tags were incorrectly displaying in the sidebar history. This has now been resolved.
We've resolved an issue where the profile data button didn't show if the person had no permission to any profile forms. Now this button will display, so you can edit user account details from this tool (if you have the required permissions).
We've removed the restrictions on commercial sites so that repeated failed log-in attempts do not deactivate users.
Within the Smartabase mobile application, we've resolved an issue where the athlete count shown on the athlete selection screen was incorrect.
Highlights from your last Smartabase release notes
In the last release notes, for Smartabase version 6.5, we announced:
Explicit control for how multi-factor authentication (MFA) codes are communicated (SMS, email and/or authenticator application).
Collapsible sidebars in the Smartabase administrator, builder and main interfaces.
If you missed those release notes, you can read them here.