Notes first published September 1, 2020
Update available from September 1, 2020
View the Smartabase Online release notes here.
View the Smartabase Builder release notes here.
Version 6.6 of Smartabase is on its way to your site. This release combines valuable updates to existing tools with user experience improvements for everyone, but especially administrators and builders. Here's a short list of what's new:
Send daily reminders according to the recipient's time zone
Daily reminders can be set up to prompt people to record their event data. Previously, a default time zone needed to be chosen, which would not update if a reminded user travelled to a different time zone. Now, an administrator can set the time zone to Local Device Time, so the alerts will be sent based on the time zone that the recipient's device is in. The device time zone will update whenever someone logs into any Smartabase desktop or phone application.

Download files in bulk from the reports tool
Up until now, there has been no way to download multiple files at once from one or more records of an event form - each file had to be selected and downloaded individually. To streamline this behavior and save time for our customers, we've added a feature to the reports tool (under the export button) and the performance history page. The download files feature allows you to download all of (or a custom selection of) the files contained in any of the records included within your report filtering. This includes files stored in file upload fields (single file uploads and multiple file uploads) and form attachments. The files are exported as a .zip folder, allowing you to review them externally and share with others.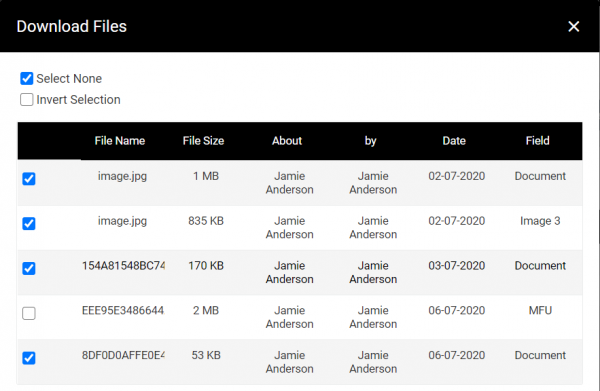 To access the download files feature, you will need a role with the new download all files system permission. You can speak to your site administrator or your Smartabase consultant to have this permission applied. The feature must also be enabled via your Smartabase consultant in your site's application details.
Disable PIN use as a password policy option
As part of ongoing enhancements to help our customers configure their security based on unique requirements, it's now possible to prevent people from using a PIN to log into the Smartabase mobile application. In future releases, this feature will also be applied for the Smartabase Athlete and Kiosk apps, but currently only relates to the Smartabase app.
This setting can be adjusted in the password policy set up for your site by your Smartabase consultant or within a role-specific password policy via the administration interface. Password policies will allow PIN log-ins by default.

Multi-factor authentication (MFA) code SMS delivery enhancements
For people who receive MFA codes via SMS, we've made an adjustment to how and when these messages are sent. Specifically, MFA text messages will now bypass the message queue, which will result in quicker delivery times overall. This enhancement was made as a result of reports that MFA codes were taking longer than expected to be received.
While this will improve the speed of MFA code delivery on the Smartabase side, we cannot guarantee specific delivery times as this will also depend on the person's phone/network provider.
Change between enterprise sites more easily with enhanced site switching
This is another feature that's been added for enterprise customers and simplifies navigation across sites. Previously, to change site you would need to manually change the web URL to the correct site. Now, if your account has access across multiple sites, you'll see a new item at the top of your builder, administrator and main interface homepage that will allow you to directly choose the site you'd like to navigate to. To use this feature, you will also need to be assigned to a role which provides the system permission to Allow Site Switching.

Internationalization enhancements for Dutch, French and Spanish
We've made some further improvements to how we handle and support languages other than English. This is part of a large ongoing project to make Smartabase more accessible in different languages, with Dutch, French and Spanish now approaching completion. These updates are specifically related to ensuring all remaining aspects of Smartabase have their own localization. Updates will be applied for Dutch translations with the initial release of version 6.6, and the French and Spanish updates will be added soon after via a patch release.
General improvements and bug fixes
We've addressed an issue resulting in people getting an authorization warning message on the main interface, directly after opening the administrator interface in a separate tab.
We received feedback that some user account fields were being removed when the account was deactivated due to too many failed log-in attempts, specifically when using single sign-on to log in. This has now been resolved.
For some clients using external video functionality, we've resolved a couple of issues related to setting up new video repositories via the administrator interface and saving new entries into the repository.
In some cases, the selected expiry time for password reset links wasn't applied. We've resolved this issue, so now the time chosen by an administrator when resetting a password will be adhered to.
Some administrators experienced issues when viewing user accounts that included profile images. We've made some updates so you won't see a 'not authorized' error when accessing these accounts.
Previously, the Sidebar system permission was needed to show critical information in the athlete (right) sidebar. Now, you only need the Athlete Sidebar system permission for this to display.
We've resolved an issue where data permissions weren't behaving correctly for some people with more than one role assigned to their account.
We've removed the restrictions on commercial sites so that repeated failed log-in attempts do not deactivate users.
Some administrators experienced issues when viewing user accounts that included profile images. We've made some updates so you won't see a Not Authorized error when accessing these accounts.
Highlights from your last Smartabase release notes
In the last release notes, for Smartabase version 6.5, we announced:
More configuration options for password criteria.
Applying password policies to roles.
Explicit control for how multi-factor authentication (MFA) codes are communicated (SMS, email and/or authenticator application).
Collapsible sidebars in the Smartabase administrator, builder and main interfaces.
A new tool for whitelisting IP addresses to reduce unnecessary multi-factor authentication (MFA) firing.
Expanded configuration options for connections between enterprise sites.
If you missed those release notes, you can read them here.