Notes first published November 29, 2019
Update available from November 29, 2019
View the Smartabase Online release notes here.
View the Smartabase Builder release notes here.
Version 6.2 of Smartabase contains exciting new functionality and we're pleased to let you know it'll be available to you shortly.
We've also included some information about updates that were made in patch releases between 6.1 and 6.2 relating to Smartabase for mobile.
New password management tools
We've upgraded Smartabase's ability to perform password resets and provided new methods for controlling if and how administrators can reset passwords for other people.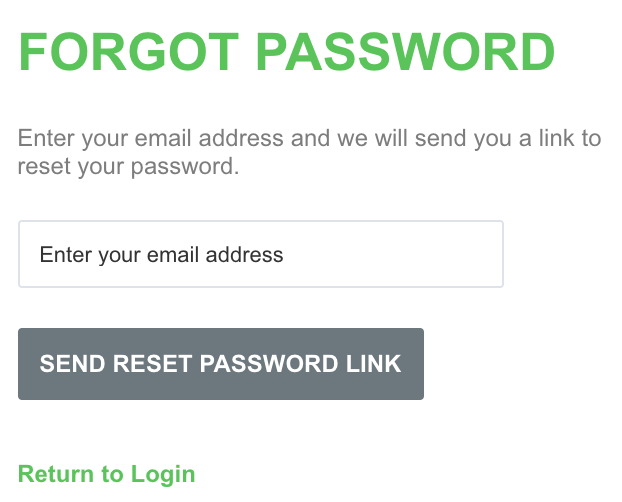 First up, when anyone needs to reset their own password, they'll now receive a password reset link via email to securely choose a new password.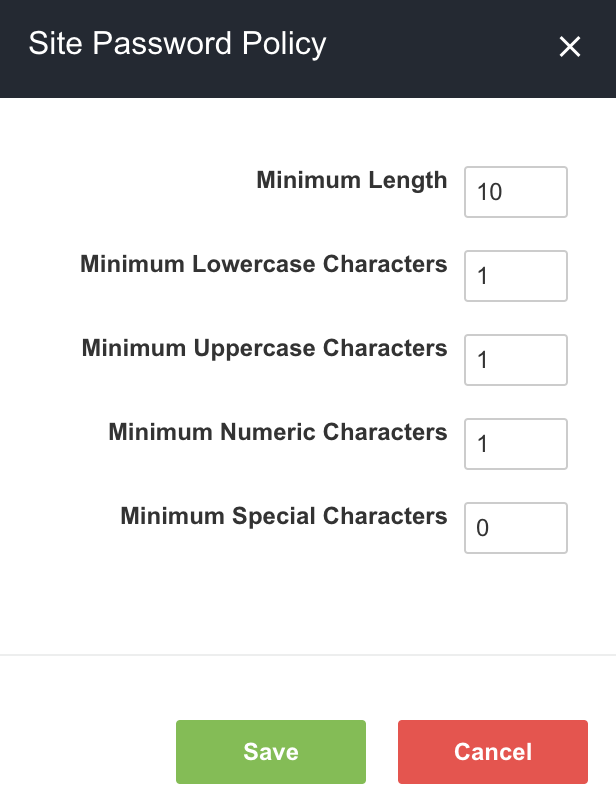 Secondly, your organization can now implement its own password policy. A new password configuration tool gives our consultants the ability to put into place your preferred rules for password length and complexity. This means that everyone in your organization with a Smartabase account must follow these rules when choosing a new password. This includes any of our professional services team who assist your organization with the development of your Smartabase site.
Thirdly, your organization can nominate how authorized Smartabase administrators are able to initiate a password reset for other people. Site administrators and team administrators can authorize a password reset that uses the link method, but only nominated administrators can set a manual password. All Smartabase administrators will be required to verify their identity using multi-factor authentication each time they want to use the password reset function for other people.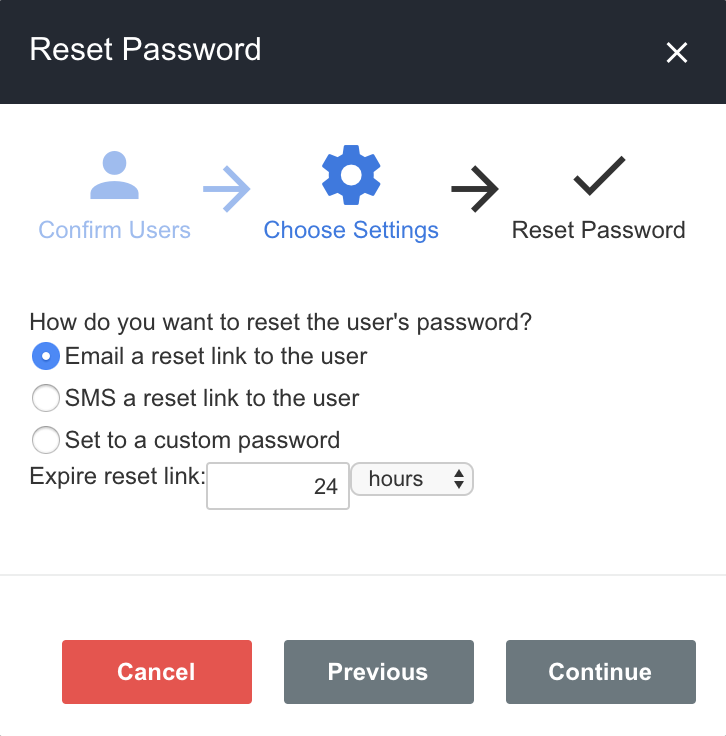 And, finally, those Smartabase administrators are able to choose how a password reset should be communicated to the affected users. A password reset link can be sent out by email or as an SMS.
Terms and conditions abilities
If you want people to accept your terms of service every time they log in or refresh their Smartabase session, you can now set this as a requirement. This is useful if your organization has an obligation to display its terms of service to people each time they use Smartabase. Once this option is enabled, the terms of service apply to everyone on your site.
Don't forget that it's also possible to provide customized terms of service (including terms and conditions, user agreements or other policies) according to people's role. So, for example, your organization can ask medical personnel to consent to terms that reflect their obligations pertaining to health information or ask coaches to consent to terms that reflect their responsibilities with regard to athlete contact information.
Smartabase in Dutch - gebruik Smartabase in de Nederlandse taal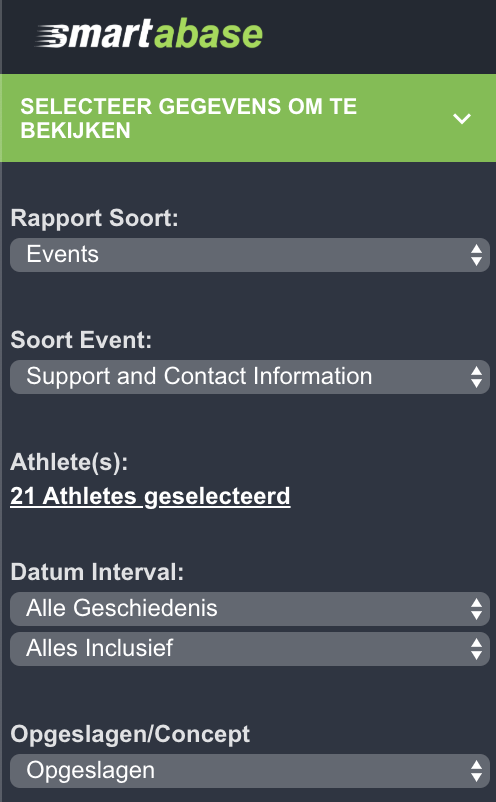 We've made a big improvement to the Dutch option that's included in the language choices available from your account page. This means anyone with permission to update their account can choose to view the Smartabase web application or mobile application in Dutch, although this option isn't yet available for the Smartabase Athlete application.
Note that Smartabase's language choices don't automatically translate content that's custom-built in your site, such as forms, dashboards or alerts. If you want to provide translations (in any language) of content you've created to the athletes, coaches, staff or others using your Smartabase site, please talk to our professional services team, who will be happy to assist.
Improved site configurability
We've made improvements that are specifically targeted at those of you who are using enterprise Smartabase systems (multiple sites on the same server which are part of the same organization). Our consultants can use a new configuration tool to quickly update the relationships between each Smartabase site used by your organization. This means it's easier to control and share data structures (event forms, profile forms etc.) and people across Smartabase sites.
In the past, we relied on our non-customer facing teams for this task, but now you can go straight to your lead consultant to quickly make changes to your enterprise Smartabase system.
Security updates
Behind the scenes, we've done a great deal of work to ensure that Smartabase complies with best practices for security. Smartabase's code has been thoroughly scanned and enhanced to meet extremely strict military grade requirements. We're proud to let you know that, no matter who you are, your Smartabase data is protected.
We've also built in the ability for people to authenticate via Google Authenticator in addition to using SMS and email. This means that your Smartabase access is no longer dependent on your ability to receive text messages or emails when multi-factor authentication is enabled on your Smartabase site.
Additionally, if your Smartabase site has team administrators, we've made restrictions so they're only shown the accounts they're responsible for. This improves both security and system loading time.
Updates between versions 6.1 and 6.2
6.1.06 - available from June 24, 2019
6.1.08 - available from June 28, 2019
6.1.13 - available from August 19, 2019
6.1.14 - available from September 18, 2019
Smartabase mobile app improvements
We've updated the Smartabase mobile app so it can let you know when an update to the app is available. The app will also let you know when an update is mandatory. For critical updates, the Smartabase mobile app will prevent users from logging in until they've updated the app.
General improvements and bug fixes
When you duplicate a user account as an administrator, it wasn't possible for you to delete the duplicate. We've built in functionality for our consultants to carry out this task for you now, so if you have any duplicated accounts that aren't required or should be deleted for compliance reasons, please get in touch with your Smartabase consultant.
Behind the scenes, Smartabase 6.1.06 improved support for the Smartabase Athlete app. Calculations in mobile-enabled event forms will display in the Smartabase Athlete app. You can learn more about the Smartabase Athlete app here.
When you're using Smartabase from your browser, you'll always find a link to the Smartabase help documentation in the menu on the navigation bar. In 6.1.08, we updated the link that you use from the administrator interface to be the same as the link that you use elsewhere in Smartabase. We made this change to help ensure that you find the information you're looking for, no matter where you came from.
We updated the language you see when you interact with the Smartabase analytics connector to be more easily understood in 6.1.14.