Notes first published June 24, 2020
Update available from June 24, 2020
View the Smartabase Online release notes here.
View the Smartabase Administrator release notes here.
Version 6.5 of Smartabase contains exciting new functionality, which will be available to you shortly. The main themes for this update are security-related configuration options and user interface improvements. Here's a short overview of what's new:
Collapse sidebars across the Smartabase web application
Every time you see a sidebar in the Smartabase web application, you can now collapse it! This gives everyone more space to view and interact with their data.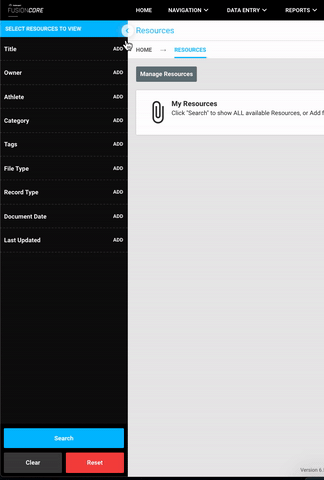 This applies to all areas of the user interface, including within the administration and building interfaces. For example, you can collapse the sidebar menu that houses controls for the resources tool to have more screen space to review your search results. Then, hover your mouse over the collapsed sidebar border to bring back the resource search menu and interact with the controls in it.
Explore the structure of your Smartabase site with improvements to the data specification tool
The data specification tool for Smartabase builders provides you with a birds-eye view of all forms that exist on your site, along with important settings within forms that affect your whole site (whether a form uses the Smartabase analytics connector or if a field is set as a status indicator or critical information).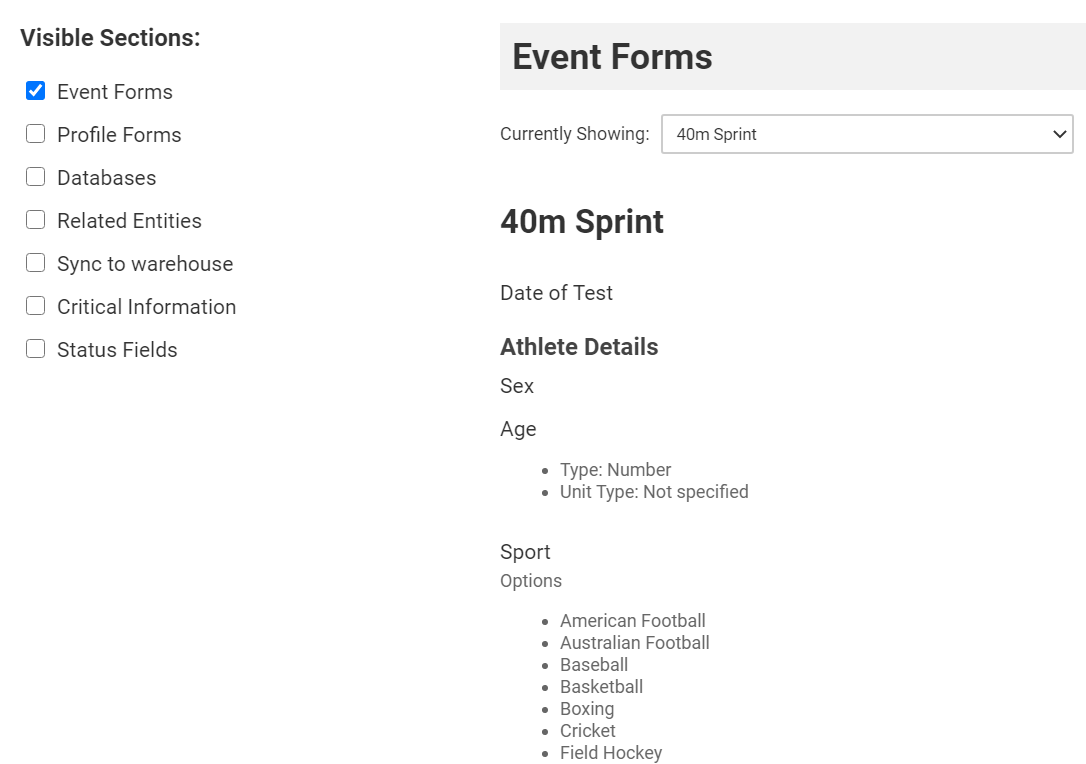 The new navigation options on the side allow you to quickly reduce the amount of information you are looking at. Then, you can use the dropdown in each section to review the outline for a specific form. We've improved the styling as well to make the information easier for you to interact with and interpret.
General improvements and bug fixes
When you make and save a change to how an event form is built, the warning message includes the number of future records that would be affected by your change.
We've removed the ability to download profile data directly from the profile form tool in the builder interface. This was a legacy feature that has now been deprecated. Profile form data will continue to be available from the reports tool, according to normal data permission rules set within your role.
When writing calculations, you may have noticed that the weekstart function could not accommodate leap years and returned erroneous results. We've fixed that.
We've resolved an issue that meant it wasn't possible to make rating fields (a type of option field) required.
Highlights from your last Smartabase release notes
In the last release notes, for Smartabase 6.4, we announced:
The ability to resave event form data for selected periods.
A new advanced form property to disable event conflict notifications for specific event forms.
Improvements to how Smartabase handles signatures and calculations for recording the date of entry when these are part of a table in an event form.
If you missed them, you can read the last Smartabase release notes here.