Notes first published April 2, 2020
Update available from April 2, 2020
View the Smartabase Online release notes here.
View the Smartabase Administrator release notes here.
Version 6.4 of Smartabase will shortly become available for you to explore. It builds on our recent security updates and ensures your systems are even more secure. Plus, there are quality-of-life improvements for builders. Here is a short overview of the main changes:
Resave event form data for a selected period of time
Resaving an event form is an important step when you add or change calculations, but it can take a lot of server resources. Now, you can select a specific period when you begin a resave.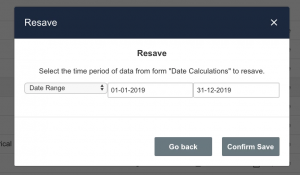 Only the records within that period will be recalculated. This can save you a lot of time when working with large volumes of data.
Performance tip: when you use this functionality, make sure to start with the oldest records first as it reduces the load that calculations have on your server.
Disable conflict notification emails using a new advanced form property
The data conflict management tool feature exists to protect your data - when a conflict occurs (for example, when two people overwrite each other's changes to records on Smartabase), it sends an email to a nominated person, who can resolve the conflict.
However, updates to data entered into Smartabase via an integration can also trigger unnecessary conflict notifications. To ensure you only get important conflict notifications, we suggest you disable event data conflict logging for any integration event forms that cause conflict. You can do this using a new form advanced property.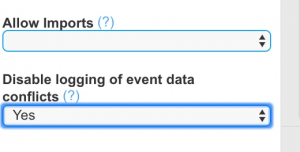 General security improvements and bug fixes
We continue to engage in regular code scans and penetration testing. This results in a more secure platform across the board. Moreover, many of our clients have specific security requirements. Our Smartabase consultants can help to prepare your Smartabase site for the demands of your environment.
We've resolved an issue where linked calculation fields sometimes did not respect the field advanced property setting the linked update range.
We've fixed a problem that meant the password criteria error message was wrong in certain cases.