Notes first published June 24, 2020
Update available from June 24, 2020
View the Smartabase Builder release notes here.
View the Smartabase Administrator release notes here.
Version 6.5 of Smartabase contains exciting new functionality, which will be available to you shortly. The main themes for this update are security-related configuration options and user interface improvements. Here's a short overview of what's new:
Choose how multi-factor authentication codes are communicated
Many of you are using multi-factor authentication (MFA) to help keep your account secure. In previous versions of Smartabase, when someone went through the process of multi-factor authentication, Smartabase would generate and send a time-based-one-time-password (MFA code) via email and SMS (text message). People could also generate the MFA code using an authenticator app, but they'd always receive the MFA code as a communication from Smartabase as well.
In Smartabase version 6.5, there are three specific preferences for the method of getting an MFA code:
Authentication app only (most secure).
SMS or authentication app.
Email, SMS or authentication app (least secure).
Like password policies, there is more than one level at which MFA communication preferences can be set:
Collapse sidebars across the Smartabase web application
Every time you see a sidebar in the Smartabase web application, you can now collapse it! This gives everyone more space to view and interact with their data.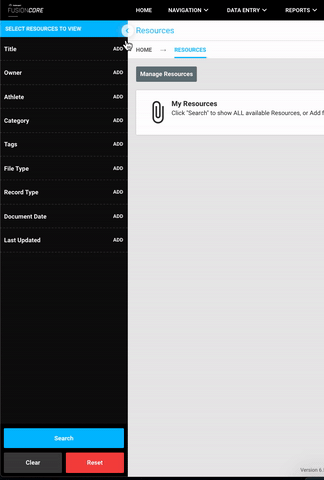 This applies to all areas of the user interface, including within the administration and building interfaces. For example, you can collapse the sidebar menu that houses controls for the resources tool to have more screen space to review your search results. Then, hover your mouse over the collapsed sidebar border to bring back the resource search menu and interact with the controls in it.
General improvements and bug fixes
We've improved searching behavior in the reports tool for situations when you're looking for all instances of a value being blank.
The tooltip for performance standards wasn't appearing for the first row in a report but appeared on remaining rows. We've fixed that and it will appear for all rows when they're hovered over.
We fixed a typo in one of the OSICS body diagram options: AZXX Ankle Pain/Injury not otherwise specified has been updated to AZXX Ankle Pain/Injury not otherwise specified.
It's no longer possible to include commas in the email address field for a user account.
New Zealand daylight savings rules were being applied to the date of birth field in user accounts, which caused the date to be wrong in rare cases. This is now fixed.
We've resolved a problem that meant some attachments and resources could not be accessed as expected, which caused an error message to appear.
We fixed an issue that prevented you from seeing critical information in the right-hand sidebar if you didn't also have permission to view the left-hand sidebar in your role.
In some cases, personal groups were being unexpectedly duplicated, which has now been fixed.
Highlights from your last Smartabase release notes
In the last release notes, for Smartabase 6.4, we announced:
The ability to resave event form data for selected periods.
A new advanced form property to disable event conflict notifications for specific event forms.
Improvements to how Smartabase handles signatures and calculations for recording the date of entry when these are part of a table in an event form.
If you missed them, you can read the last Smartabase release notes here.