Notes first published March 30, 2021
Update available from March 30, 2021
Version 2.44 of the dashboard builder is now available for use on Smartabase. This release includes new features for sorting select box widgets, as well as some minor improvements and fixes in the background.
Sort your select box widgets for easier filtering and navigation

The select box widget can be used to filter other widgets based on text, numerical or date values in an event form. This release gives you the extra ability to choose how the values in a select box are sorted, rather than simply sorting alphabetically. You can now choose to sort the values by the following options:
Value (alphabetically)
Date of first occurrence
Date of last occurrence
You can elect to order the values in ascending or descending direction with respect to the selected sorting. You can also choose whether you'd like the widget to automatically reset options to the first value in the list when there's a data change (for example, if a different filter is changed which results in different values being available in your select box).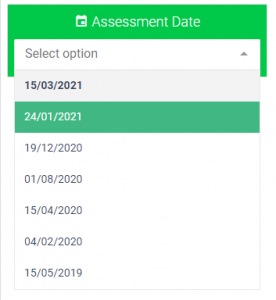 This is a particularly useful addition for people displaying date values in select boxes, but offers valuable configuration options across all applications of this widget. 
General improvements and bug fixes
We've updated interactive record cards so field names will display in the language of the person viewing the dashboard (if a translation has been provided for that field).
Highlights from your last dashboard builder release notes
In the last release notes, for version 2.43 of the dashboard builder, we announced the following changes:
We added the ability to display custom date and time formats on the time series chart widget.
We added support for parsing nested csv data from your data sources.
If you missed those release notes, you can read them here.