Notes first published October 26, 2020
Update available from October 26, 2020
Version 2.38 of the dashboard builder has been released. This release includes support for more languages and resolves some issues related to categorical chart widgets, pie and donut chart widgets, XY scatter chart widgets and other dashboard items.
View and build dashboards in German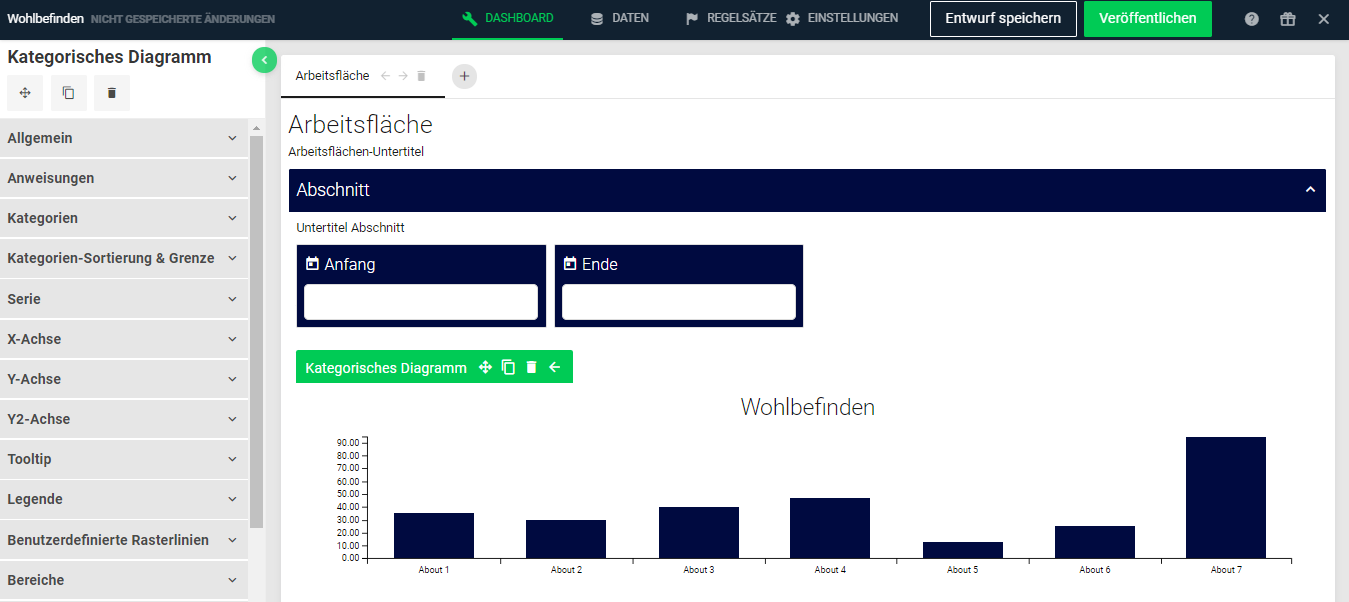 On top of our recent additions of Dutch, French, Spanish and simplified Chinese, now you can interact with your dashboards in German. Anyone with their user account language set to German will see the dashboard interface automatically translated into German, along with other tools in Smartabase. If your user account is set to use German, the dashboard builder interface will also be translated - making it easier for you to set up your dashboards in your preferred language.
General improvements and bug fixes
In addition to German language support, we've also completed the necessary work to display dashboards in Korean. You'll be able to use Korean once your Smartabase site is updated to version 6.7 of Smartabase.
We identified and resolved an issue with categorical charts which was related to the property for showing null categories (categories where no data has been entered). Sometimes these charts were failing to load correctly when a filtering widget changed.
We've fixed an issue where if a series on a categorical chart came from a different form to the one used to generate the chart's categories (and the series' category field name didn't match the chart's category field name), the series would fail to load.
Regions in XY scatter charts now rescale properly when the axis values change based on any filtering changes in your dashboard.
Also when building an XY scatter chart, the widget will no longer break when setting it to color based on a data field. This happened when the X and Y data fields were set to the same field, and we've fixed the problem.
The legend position for the pie and donut chart widget now correctly display according to your locale. This bug may have caused some pie or donut charts to display the legend in unintended positions. The legend positions of any affected pie or donut charts have been reset to appear at the bottom of each chart.
The canvas selection menu (which replaces the canvas tabs if they don't fit on your screen) opens as it should after it was previously closed by clicking the same control.
In the Smartabase Athlete app, if you tapped a searchable select box the dashboard would zoom to the select box. We've disabled this behavior for a better experience.
Bug fixes that were released between 2.37 and 2.38
Since releasing version 2.37 of the dashboard builder, we also addressed the following issues:
We resolved an issue where clearing all selections in a select box widget with multiple selection enabled would cause the widget to break.
We fixed an issue where dashboards failed to load on the Smartabase mobile application.
Highlights from your last dashboard builder release notes
In the last release notes, for version 2.37 of the dashboard builder, we announced:
Viewing and building dashboards in simplified Chinese.
Improvements to data filtering and efficiency.
Other improvements and bug fixes.
If you missed those release notes, you can read them here.