Notes first published January 8, 2020
Update available from January 8, 2020
New features for the aggregation table widget
You'll find we've made some useful enhancements to the new aggregation table widget (released just last month!).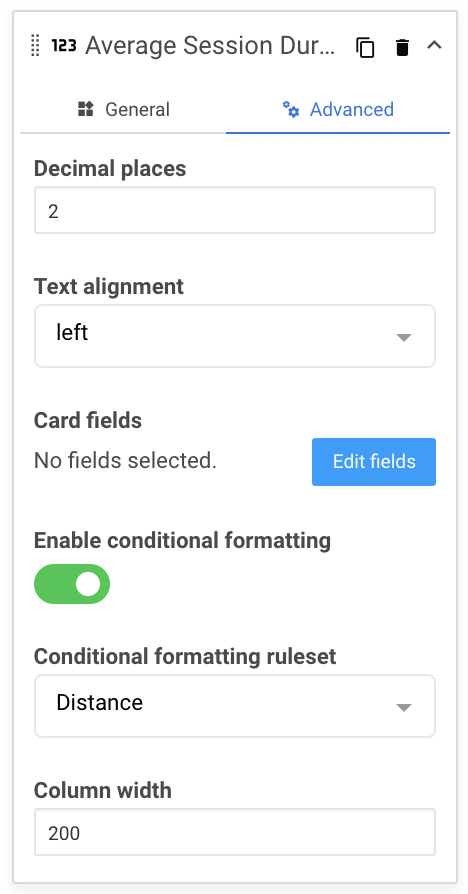 You're now able to specify the width of each column that you add to an aggregation table. Each column has an advanced set of properties where you can fine tune exactly how you want the column contents to display in the table. At the bottom of the advanced properties for each column you'll find the new column width property (measured in pixels).
We've also updated how the aggregation table gets sized in your dashboards and it'll now fit itself into the entire width that you've specified for the widget (from the general properties of the aggregation table widget). This means no odd-shaped gaps in your dashboards!
General improvements and bug fixes
When you use the print feature on a dashboard that contains an aggregation table, the sorting icons for that widget won't appear in the PDF. This gives you a cleaner, more optimized image to print and share with your colleagues and athletes.
We fixed an issue affecting the text alignment settings for the first column in an aggregation table.
Likewise, we've updated the behavior of header cells for aggregation tables, and they'll now obey the text alignment settings for their respective columns in the table.
The avatar color settings you choose in the dashboard settings will now be correctly applied to avatars that appear in an aggregation table.
We've optimized the behavior of content that's too big for cells in your aggregation tables. Overflowing content now gets hidden, which keeps your table looking tidy.
Bug fixes that were released between 2.25 and 2.26
We fixed an issue where the dashboard builder failed to load in some situations. This was due to caching behavior.
We made additional stability improvements to the dashboard builder.
And we resolved an issue that prevented chart regions from obeying color transparency settings.
Highlights from your last dashboard builder release notes
In the last release notes we announced:
A new widget for creating aggregation tables.
More ways to customize pie and donut charts.
Support for multi-select data, like body diagrams and multiple selection option fields, in the pie and donut chart widget as well as the brand new aggregation table widget.
If you missed them, you can read the last dashboard builder release notes.