Notes first published December 16, 2020
Update available from December 16, 2020
Version 1.25 of the Smartabase Athlete app is ready for you to use. This version focused mainly on providing support for single sign-on (SSO), as well as slider field improvements and other general improvements.
Log in automatically using single sign-on
We've added the ability for you to sign into the Athlete app using SSO. If your organization has SSO enabled on your Smartabase site, you will be able to log into the Athlete app with the same account you use for other web services within your organization. You can contact your Smartabase consultant to assist with setting this up for your organization.
Accept terms and conditions from the log-in screen
You can now accept or reject the Smartabase Terms and Conditions of Use from the main log-in page. You'll have to accept these terms before being allowed to log in. Note that this is separate to any custom terms documents set up by your organization, which you can accept or reject after clicking Log in.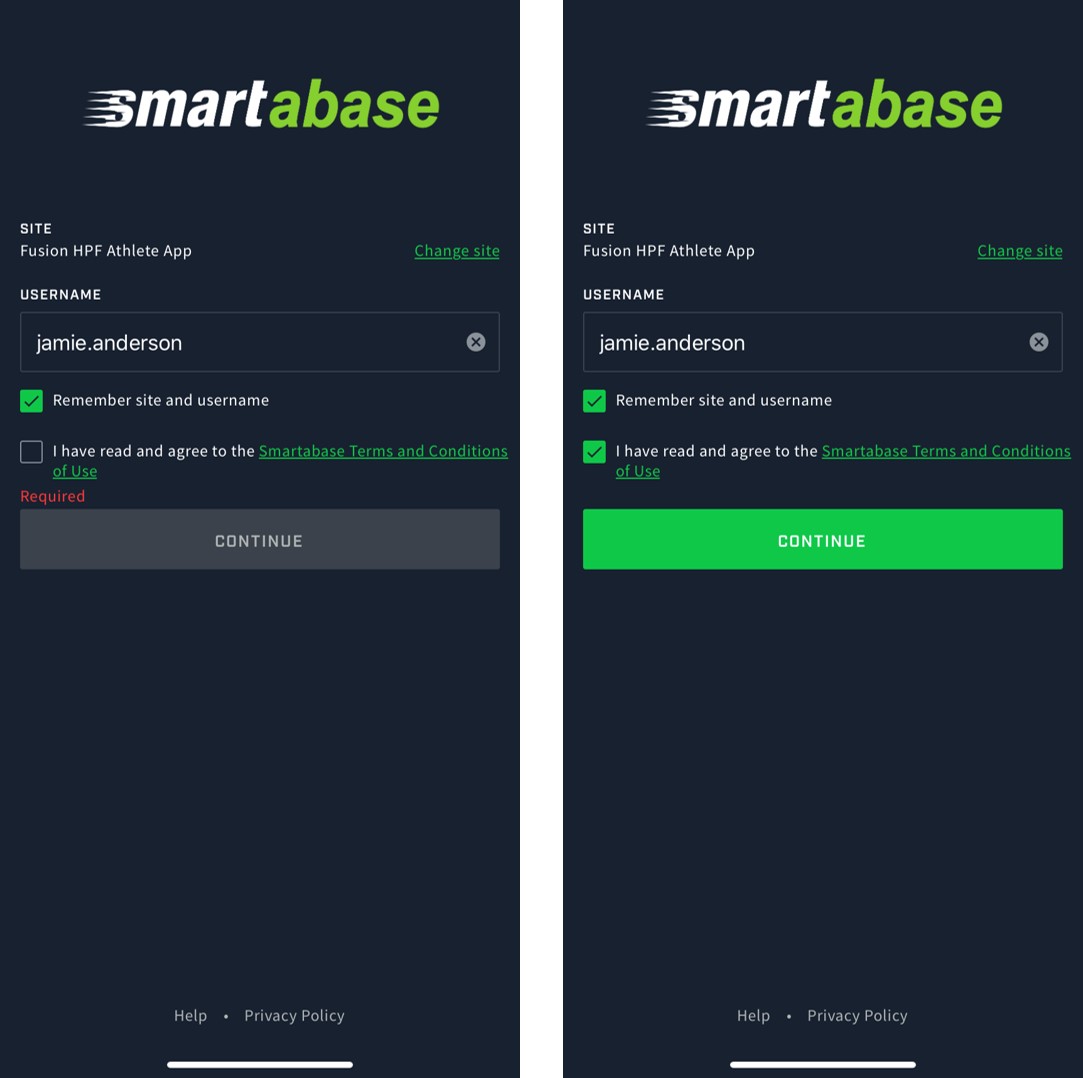 General improvements and bug fixes
We've added clarity to error messages that are received when logging in.
We now support locking criteria on event forms.
We've made some changes to your account security and you now need to enter your password to change your account details or favorite event forms. If you have SSO enabled, you can update these sections by logging into Smartabase on a web browser.
We've adjusted the way Apple Health data synchronizes with the Athlete app. Specifically, new data will not sync while someone is actively using the app unless they manually sync the data.
We've fixed an issue that caused required dropdown fields in tables to default to unselected options.
We've resolved an issue where some images referenced from a database record would not display in a table preview.
We've made some further optimizations related to how tables behave in the Athlete app.
We received feedback that the app was refreshing while some people were entering data. This is now fixed.
We've added support for restriction policies, which were released as part of Smartabase version 6.7.
Highlights from your last Athlete app release notes
In the last release notes, for version 1.24 of the Athlete app, we announced:
Support for wet signature fields.
Performance enhancements for paragraph fields.
Other minor improvements and bug fixes.
If you missed those release notes, you can read them here.