Group data entry is a means of entering data into an event form for multiple people at the same time when logged into Smartabase on a browser. You must be a professional user to do this as it requires access to multiple people. The form must specifically be enabled for group entry, so you may not be able to use this feature for all of the event forms you have access to.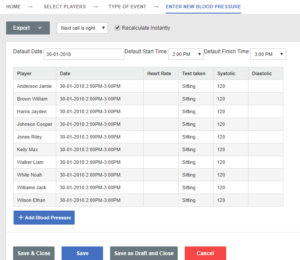 This example of group entry mode shows a blood pressure event form where records are being entered for a group of people at once. All of the event form field names appear as separate columns. The people who make up this group are the squad of fictional athletes created by the Smartabase support team – the Smartabase All Stars. Jamie Anderson is at the top of the list as he is a member of this group. This form has been partially filled out.
Group entry tabs
In some instances, you may see some highlighted tabs at the top of the data table in group entry mode. These tabs represent different sections of the event form and are set up by your Smartabase builder. Tabs that are highlighted are currently visible. To show or hide the different tabs, click on the tab name.

In the example above, the sections called Hidden Calcs for Z scores, Z scores and Wellness flags are not visible. Clicking on the tabs would highlight them and show the fields in the data table.
Enter data for a group
The Enter Data for Group button on Smartabase Online automatically selects all members of the current group you are viewing. If you want to enter data for a personal group instead, you can pick a personal group at step 3.
Sign in to Smartabase to view the home page.
Click the button called Enter Data for Group.
Select the required group and group members.
Click the Enter Event for [number] Athletes button or link.
Select the necessary event form.
Specify how many rows are needed per group member for any table fields.
Select the date and time you want the event form to be recorded with.
Enter data for the group members into the event form. Note that group entry mode enables almost the same extra functions as entering data into a table with the exception that when you click Fill Down, a pop-up box appears with options for whether you want to copy the cell contents or the contents of the entire row. When selecting the option to copy an entire row you are also able to specify which row (or rows) you want to copy and which rows you want to copy them to.

If the event form is complete, click Save & Close
If the event form is not complete, click Save Draft
If the event form can't be completed, click Cancel

When group entry mode is exited, the reports tool will load.