Everyone who uses Smartabase has an account, whether they're an athlete, student, patient, soldier or staff member. Account information usually consists of your identifying information and contact information.
You should not share your Smartabase login credentials (username, password or PIN) with anyone. If you believe someone has access to your credentials, we recommend that you reset your password immediately.
You can use the Athlete app Settings to:
Manage your account details
You can view your account in the Athlete app by navigating to Settings, then Account. In addition to your account details and contact information, you can also change your default language and update your profile picture.
You may also be able to access your profiles from the Account screen. Unlike account details, profiles are customized for your organization using profile forms.
If you are using the Athlete app when offline, you can view (but not edit) your account details. Profile forms are not available in offline mode.
Change your default language
Smartabase supports some frequently spoken languages, in addition to English. These include German, Spanish, Dutch, French, and Mandarin to name a few. Most sites default to the language of the organization's home country, but people who speak one of Smartabase's supported languages can update their account to choose their preferred language.
Updating the language within your account settings is very straightforward; however, please keep in mind that Smartabase will only translate text that is part of the system itself. If event or profile forms have been created in English and a person has set their language to Spanish, then your organization would need to provide a translation for the terminology used in the forms.
To change the default language on the Athlete app, you'll need to change the language set in your account details.
From the Athlete app home screen, open Settings.
Tap the Account option to open the Account screen.
Select a Language from the drop-down list.
Select Update at the bottom of the screen.
Enter your current password to confirm the change.
Update your profile picture
From Settings, go to your Account and tap the edit icon for your profile picture. From here you'll have the option to take a new photo or add one from your phone's photo gallery. Depending on which option you choose here and any permissions you've set up before, the Athlete app might ask you for permission to access your device's camera or photos.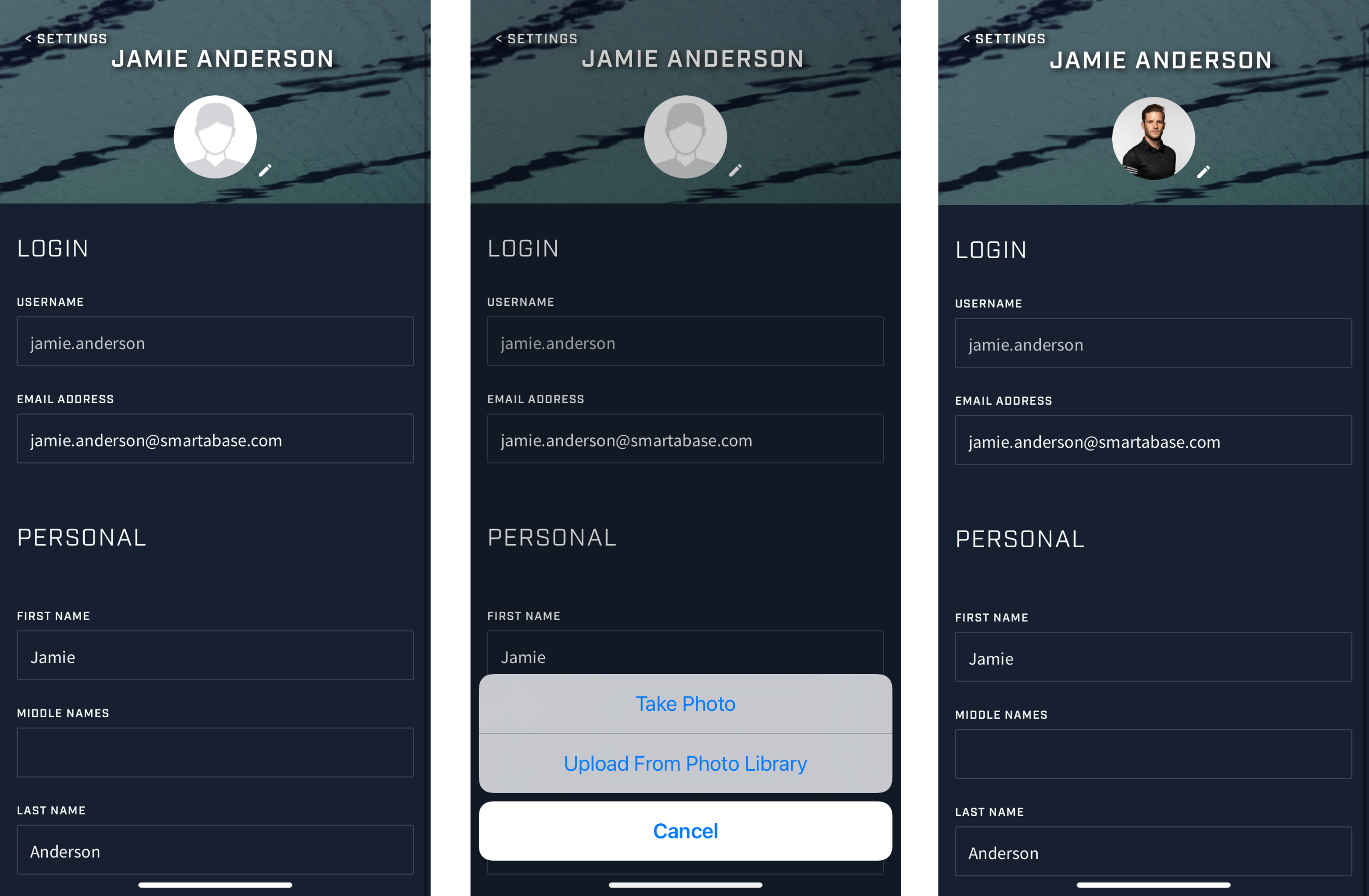 When you add a profile picture from the Athlete app, it'll update your Smartabase user account everywhere, so your coaches and support staff (or anyone else who is authorized to access any of your Smartabase data) will see your new photo when they review your information from Smartabase Online or the mobile app.
Enable notifications
If you want to get push notifications (notifications that show up when you're not using the Athlete app), you'll need to follow these steps. If you've already set up a PIN for your Athlete app, go straight to step 8.
From the Athlete app home screen, open Settings.
Tap the Security option.
On the security screen, use the toggle to Enable PIN login.
Enter your password to begin the PIN set up process.
Tap Setup PIN.
Create a 4-digit PIN.
Confirm your PIN choice.
Return to the Settings screen from the home screen.
Select the App preferences option.
In the preference screen, tap the option to View system settings.
The Athlete app will take you to the permissions settings for your phone or tablet. Here, your options will be different depending on whether you have an iOS device or an Android device.

For iOS devices, select Notifications and toggle the Allow notifications option, then choose how you want to see notifications from the Athlete app.
For Android devices, set the notifications slider for the Athlete app to On and choose how you want to see notifications from the Athlete app.
Set favorite events and dashboards
If enabled for your role, you can choose any number of event forms or dashboards as favorites. Favorite events and dashboards will show up as items on your Home screen to make it easier for you to access them.
To set favorites for yourself, select the Add favorites button on the Home screen. Alternatively, if a Smartabase administrator has already set favorites for you, you will see them listed under Favorites on the Home screen. If so, select the pencil icon to the right of the Favorites heading to add or edit your favorites.
On the Favorites screen, you'll see the event forms and dashboards that you have access to on the Athlete app underneath the Events and Dashboards headings. To add favorites, select the tick box next to the event form or dashboard. You can rearrange the order of your favorites by pressing and dragging the icon on the right of the event or dashboard name to a new location. Use the Save button to save your changes and confirm your updates by entering your password. To cancel your changes and return to the Home screen, select the Back button.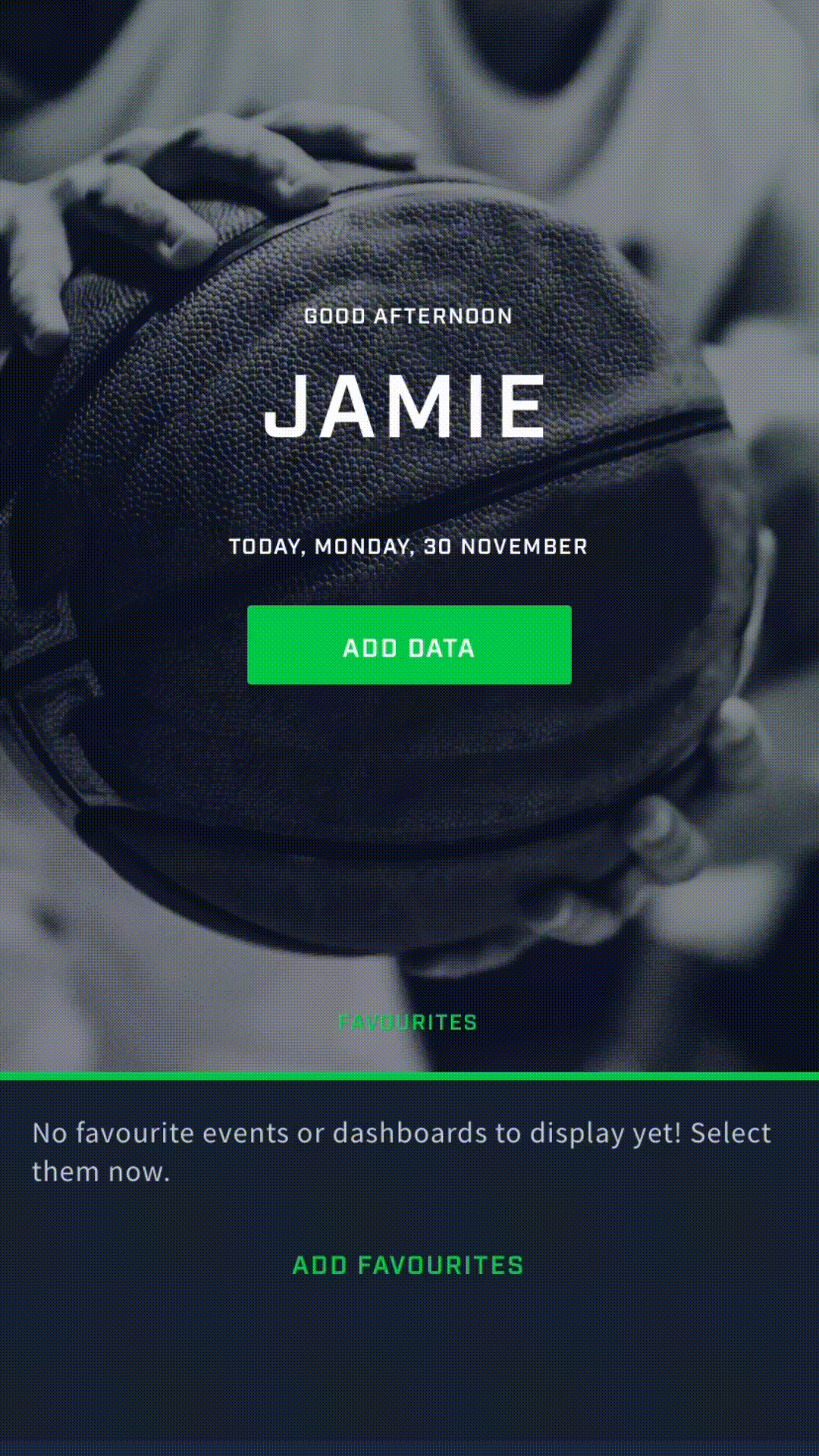 You can also edit your favorites by going to Settings, selecting App preferences and then Edit favorite events.
Configure the app for offline use
If you anticipate needing to enter data into the Athlete app without an internet connection or with a weak connection, you can configure the app for Offline use in the app Settings. Here, you can download forms ahead of time so that they're available if you lose your internet connection. You can also choose whether to allow forms to be downloaded with mobile data or with an internet connection only.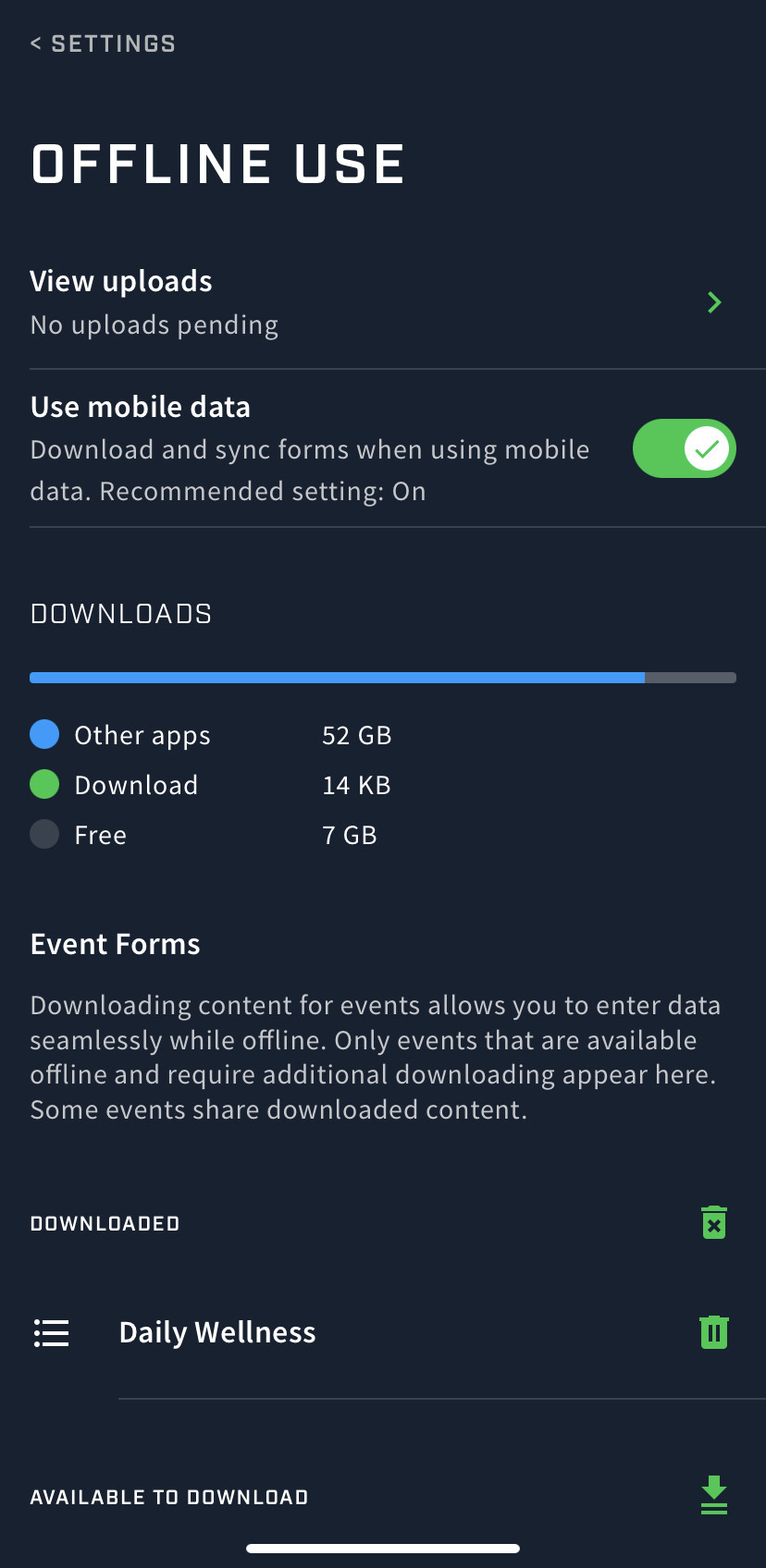 You can download specific event forms from the Offline use settings by tapping the download icon next to the form name, or selecting the icon next to Available to download to download all forms. These forms will appear under the Downloaded heading. Likewise, you can remove one or all downloaded forms if you no longer require access to them offline by tapping the trash bin icon next to the form name or next to Downloaded. If your access to forms is revoked, the form will disappear from the list.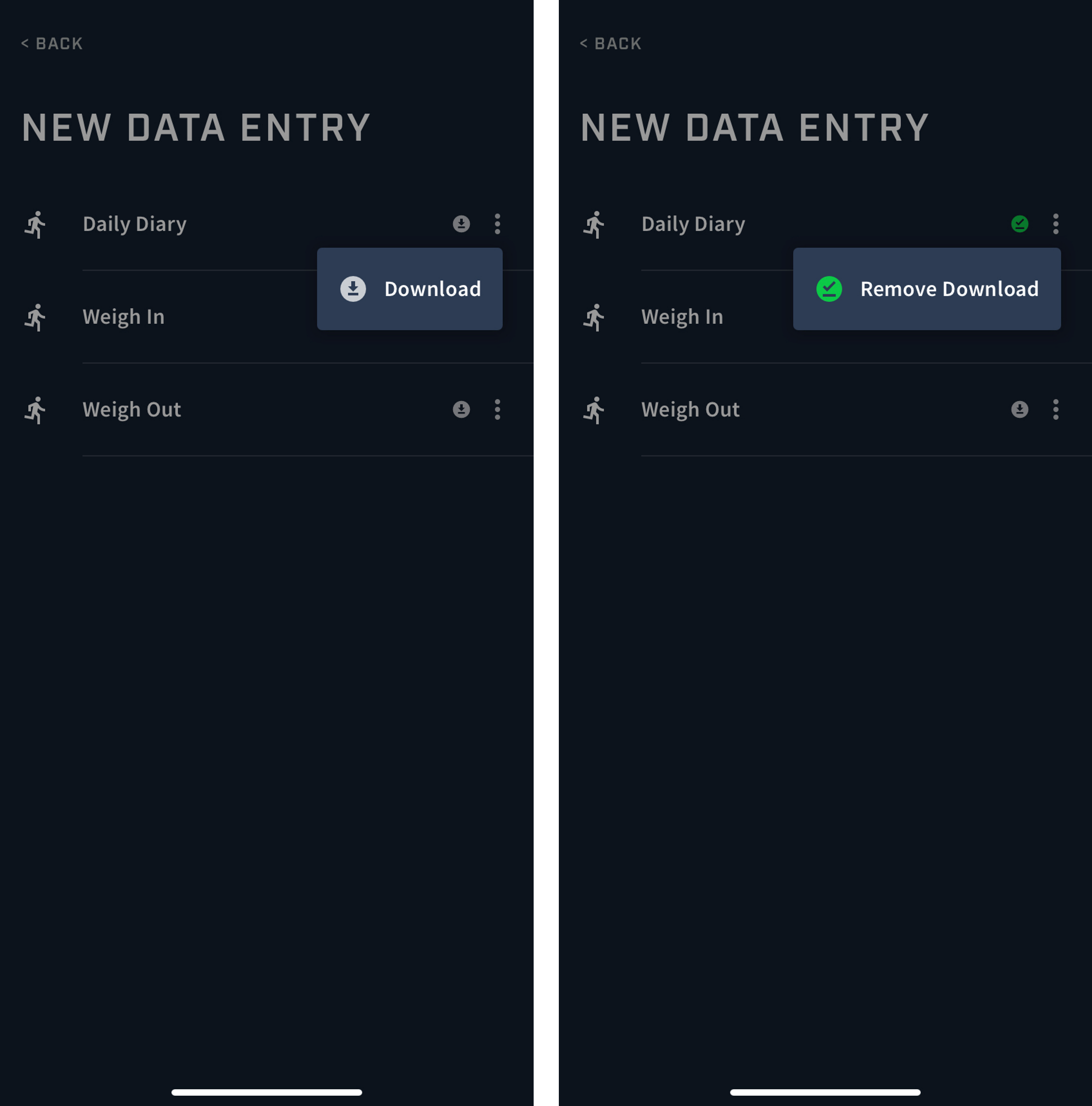 You can also download forms from the New data entry screen by selecting the three-dot icon next to the form name and then selecting Download. Forms that have been downloaded and can be used offline will appear with a green icon while forms that have not been downloaded will have a grey icon. To remove downloaded forms from this screen, select the three-dot icon next to the form name and then select Remove download.