TeamBuildr is a strength and conditioning software designed for teams, gyms, facilities and strength coaches. Smartabase can connect with TeamBuildr to automate the flow of key training information. Integrating your TeamBuildr data with Smartabase can provide meaningful analysis into progression, performance and other strength and conditioning insights.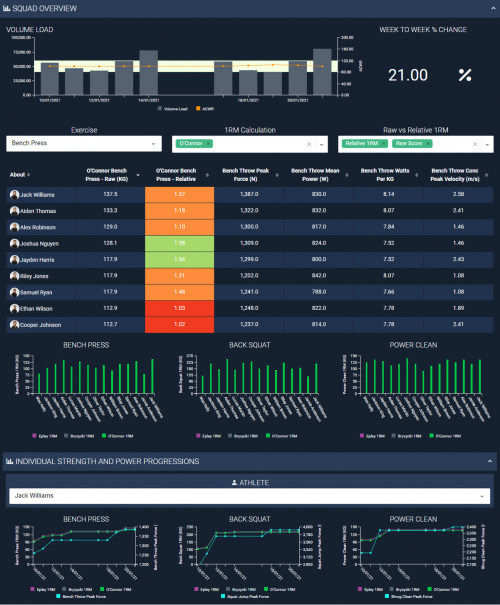 Setting up your Smartabase site to integrate with TeamBuildr
What Smartabase will do
Your Smartabase consultant will add the the following event forms to your site. These forms will connect with and store all data from TeamBuildr. You can work with your Smartabase consultant to ensure the appropriate roles have access to view this information, as well as any dashboards set up to visualize the data.
TeamBuildr Lift Session
TeamBuildr Lift Session Prescription
TeamBuildr Cardio Session
TeamBuild Cardio Session Prescription
TeamBuildr Circuit Session
TeamBuildr Circuit Session Prescription
TeamBuildr Questionnaire
Please speak to your Smartabase consultant before adding any new fields to the above event forms as it may have unintended consequences.
What we need from you
Once you've confirmed you'd like to go ahead with the integration, one of the Smartabase team will set it up for you. After the process is complete, your Smartabase consultant will provide you with some account credentials. Once it's ready to go, you'll need to log into your TeamBuildr account and enter these credentials into the Data Management settings for Smartabase to complete the connection. You will also have the option to synchronize some or all data types (e.g. lifts, circuits) from TeamBuildr into Smartabase.
Once connected, Smartabase will synchronize actual session data every two hours, 45 minutes past the hour. Prescription data will be synchronized every four hours, 10 minutes past the hour. Data will not be backdated automatically, but a copy of your historical data can be requested from your TeamBuildr contact.
How are people's accounts mapped between TeamBuildr and Smartabase?
Smartabase will use account email addresses to identify people across the platforms. Therefore it's necessary that the email address recorded in TeamBuildr is exactly the same as the associated Smartabase account email.