The content widget is designed to help you bring additional value and polish to your dashboards with rich, informative and beautiful content. The content widget allows you to add blocks of text and images and make use of all the same formatting options you're used to seeing in your email editor, content management system or documentation software.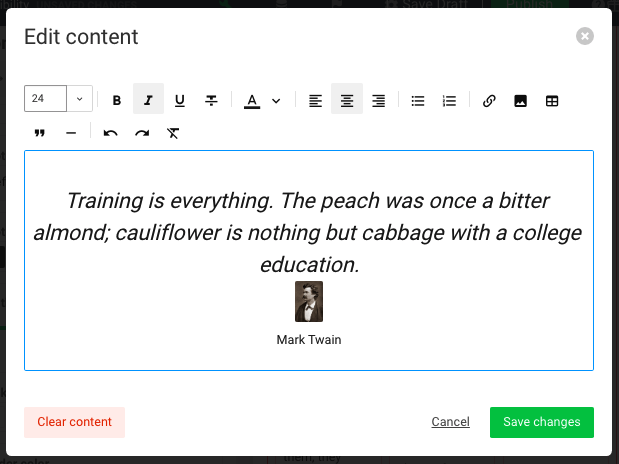 To help you create eye-catching text content that enhances the insight people gain from your dashboard, you can adjust the text size, style, color and alignment as well as add bullet points or numbered lists. To supplement your written content, add links, tables, images, block quotes and horizontal rules.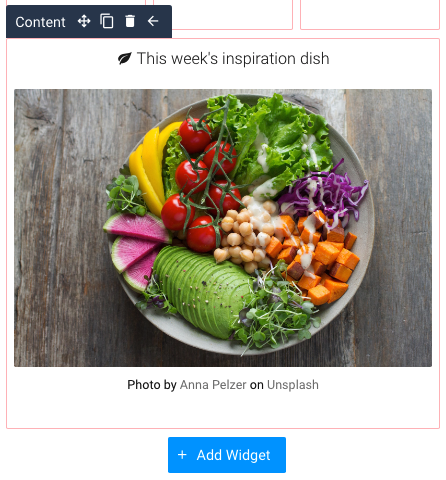 In addition to the material you can create within the content widget, like any other widget, you can also style it to fit the visual design of your dashboard or the canvas it's contained within.
Use the sidebar to configure the content widget
Select the content widget to display the settings in the sidebar. These settings include:
General

Use the General properties of the sidebar to add descriptive information for your content widget. You can also:
Choose whether the title of the widget should be displayed. If you enable this, then you can provide a title and icon for the widget and specify the font size, font color and text alignment.
Choose whether a subtitle for the widget should be displayed. If you enable this, then you can add a subtitle for the widget and specify the font size, font color and text alignment.
Specify the widget width within the section where it appears.
Choose the background and border color for the widget.
Content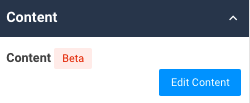 Here, use the edit option to open up the content editor. Within the content editor, you can:
Adjust the font size of selected text.
Enable bold, italic, underline or strike-through text formatting for selected text.
Specify a font color for the selected text. The options here are the same as elsewhere in the dashboard builder. You can select from the color space and adjust the transparency or enter a color as a hexadecimal code.
Choose the text alignment of the selected paragraph.
Create a bullet point list of items.
Create a numbered list of items.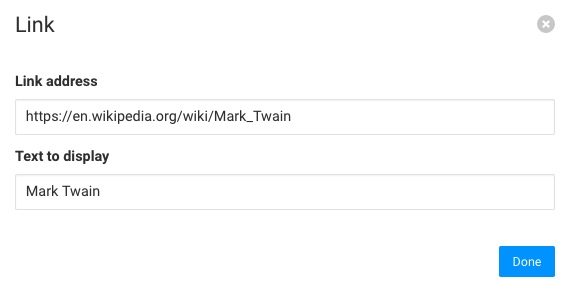 Link the selected text. When you choose this option, you'll be prompted to enter a URL for the selected text to link to.
Add an image. To display an image within the content widget, the image file must first be stored as a resource. Then, enter the resource name.

Add a table. When you add a table, a sub-menu appears for table editing options. You can use these tools to add and remove, merge and separate, or color the background of rows and columns.
Format the selected text as a block quote.
Add a horizontal rule.
Undo your most recent action.
Redo the most recent action you undid.
Clear the formatting for the selected text.