The Excel reports tool (sometimes called advanced reports) is another reporting tool which enables integration of Microsoft Excel functionality. To develop an Excel report, you would use the Excel reports tool to generate a template containing data from the forms you want to report on. That template can be configured in Excel to include additional analysis, graphics and other customizations (Excel pivot charts and inbuilt graphs and tables, for example). These elements are added in new worksheets, leaving the template worksheet unchanged so that new data can be added without problems. This Excel file is then re-uploaded to Smartabase, tested and saved. The Excel reports tool will then produce an Excel file using the template and event form data selection options you created it with, including data that has been added since the report was created.
Reports that are created with the Excel reports tool are able to be shared with other users (depending on appropriate permissions) so that other people can produce the same report if they wish.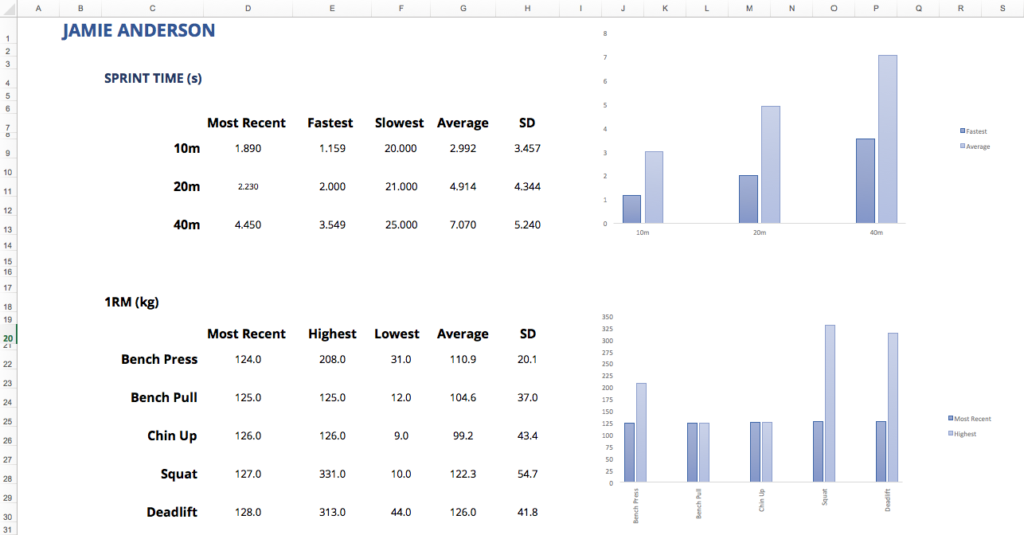 This Excel report was created using data from a 40m sprint testing form and a strength testing form. That data has been summarized into a single tab (shown here) in the Excel file using formulas and graphics. A coach, or anyone with permission to view the Smartabase All Stars' data from the 40m sprint and strength testing forms, can easily download this report and view it in Excel to get a quick overview showing how an athlete is performing.
Steps to create an Excel report
Log in to Smartabase to view your home page and select the Excel reports tool.
Select New report from the Options drop-down at the top of the page.
Name the report you want to create.
Choose the report type:

One report will send all data for all selected users to a single Excel file.
One report per athlete will create a report for each user on a single tab.
One report per record will create a separate Excel file for each event form record.
One record per tab will create put data from each event form record on separate tabs.

Select the users to include in the report.
Set the date criteria.
Select the event form the report will be based on.
Click Generate report template.
Open the XLS file that downloads using Microsoft Excel.
Configure the resulting Excel file to display data how you want to view it.
Save the Excel report template, ensuring that the source data is removed.
Return to Smartabase and upload the template file.
Click Test report to ensure that your report works as intended.
Select Save report.
In future, you can run this report from the Excel reports tool using different selections for users, data and filtering if necessary.