The schedule is not used as a means of scheduling events. For information about scheduling events, see our article on Bookings and Appointments.
The Schedule tool is a simplified version of the calendar – a day-by-day view of which events are planned for a user. The default setting for this tool is the current day's date, so it can be a useful way of maintaining awareness of the present day's requirements. Similar to how the calendar is used, event forms can be entered after selecting them from the schedule. The Schedule Page system permission is required to view this tool.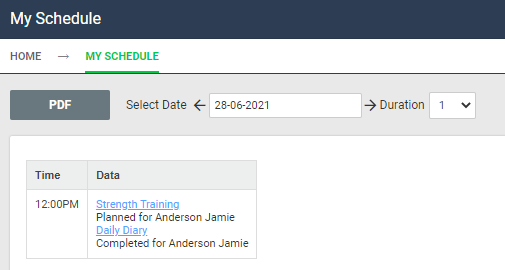 This example shows Jamie Anderson's schedule, viewed using the schedule tool, for the 28th June 2021. This screenshot was taken when logged in as Jamie Anderson, who is only able to see his own records (wellness and strength training). When logged in as the coach of Jamie's group, we would see the records of 28th June 2021 for all members of the team.
From his schedule, Jamie can select any of these records to view their details or fill them out with additional information. He can also choose to view the previous or next day or view all records by week or month.