The Kiosk app can be configured by the account owner within Coach settings. Tap the options in the sidebar to edit the relevant settings:
To log out of the app, tap the Log out button at the bottom of the sidebar.
Groups
Use the Groups screen to choose which groups should appear in the athlete view. Only people who are members of the selected groups will be able to enter data.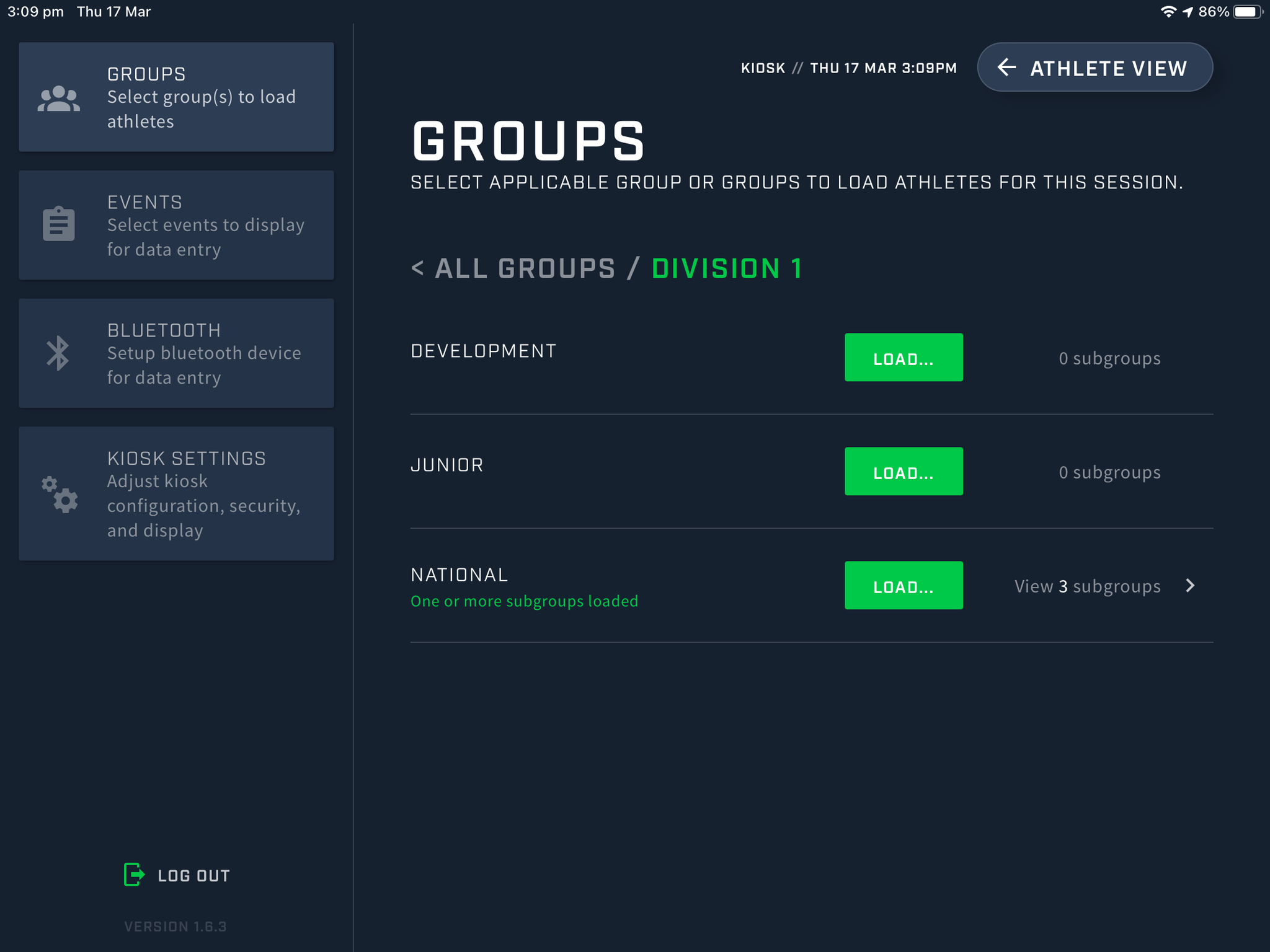 Events
Use the Events screen to select which event forms should be shown in the athlete view. People will only be able to enter data into forms that have been enabled from the Events screen. If there's only one form enabled for the Kiosk app, then the event selection screen won't show up and the form will load automatically once someone chooses themselves from the athlete selection screen.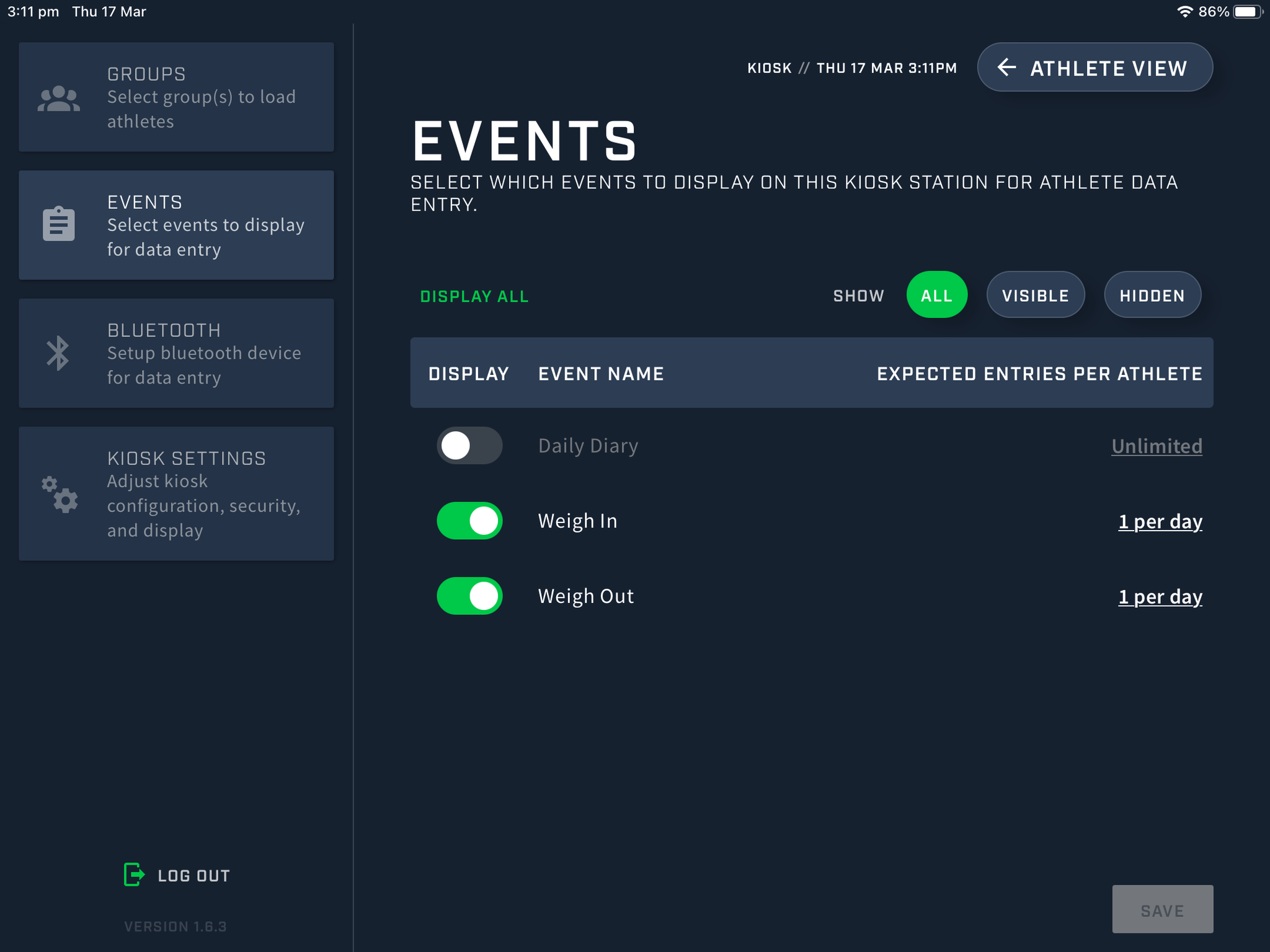 For each form, you can set an expected number of entries for each person over a specified time period. If you fill out the expected entries, the Kiosk app will use this information to highlight which people have and haven't recorded their data for the day, week or month. The Kiosk app checks for completed entries across Smartabase (for example, via Smartabase Online, the Athlete app or another kiosk) approximately every 30 seconds and will take data entered elsewhere into account when displaying each person's completion status.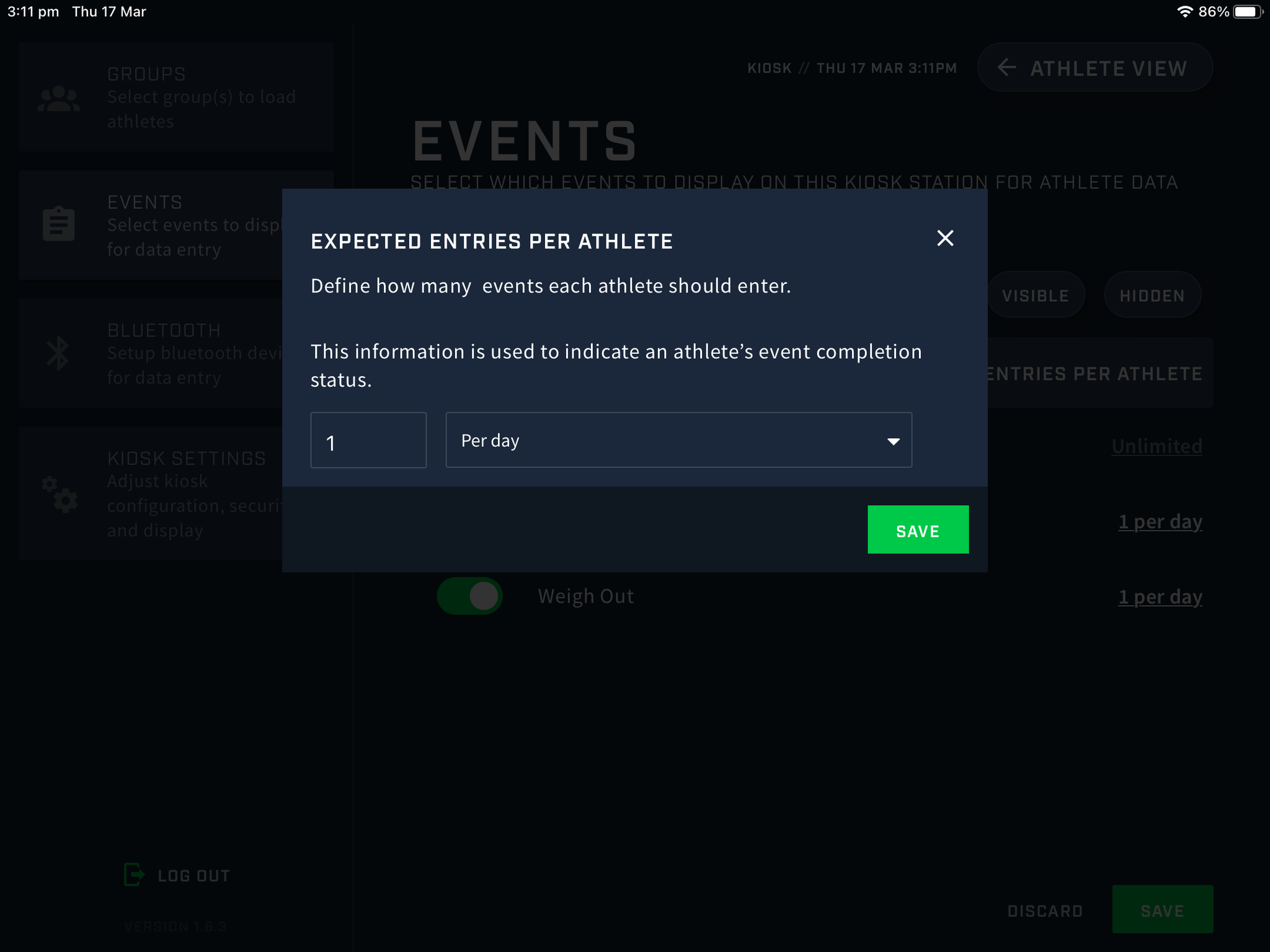 Bluetooth
Use the Bluetooth screen to connect to a Bluetooth device. Click on Scan devices to search for a device and follow the on-screen prompts to connect to the specific device you are using. If you are using the Rice Lake Bluetooth scale, you will need to step on the scales to activate the Bluetooth module before connecting.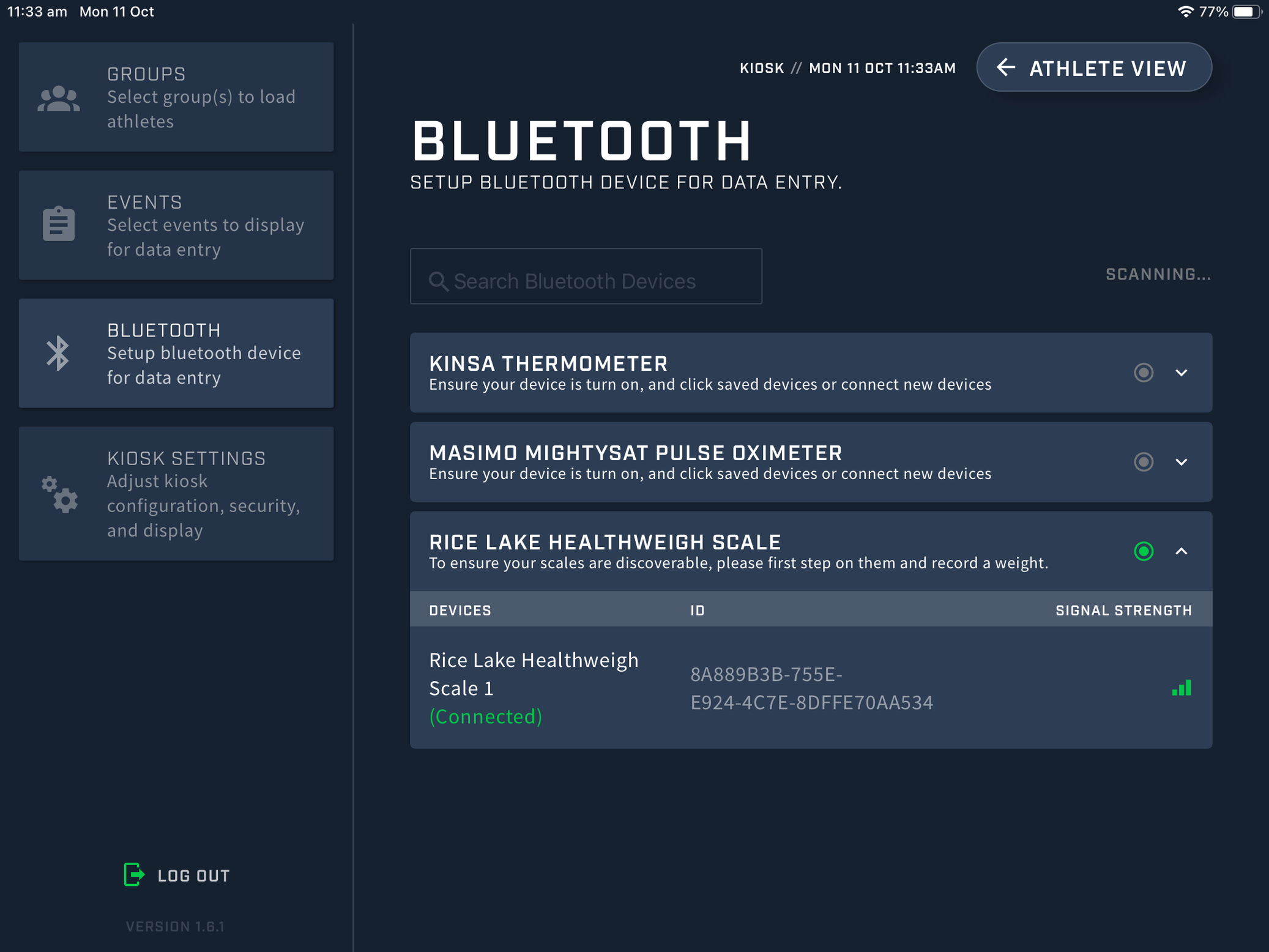 After you have connected to a device, the value collected by the device will automatically populate in any fields set up with the Bluetooth integration.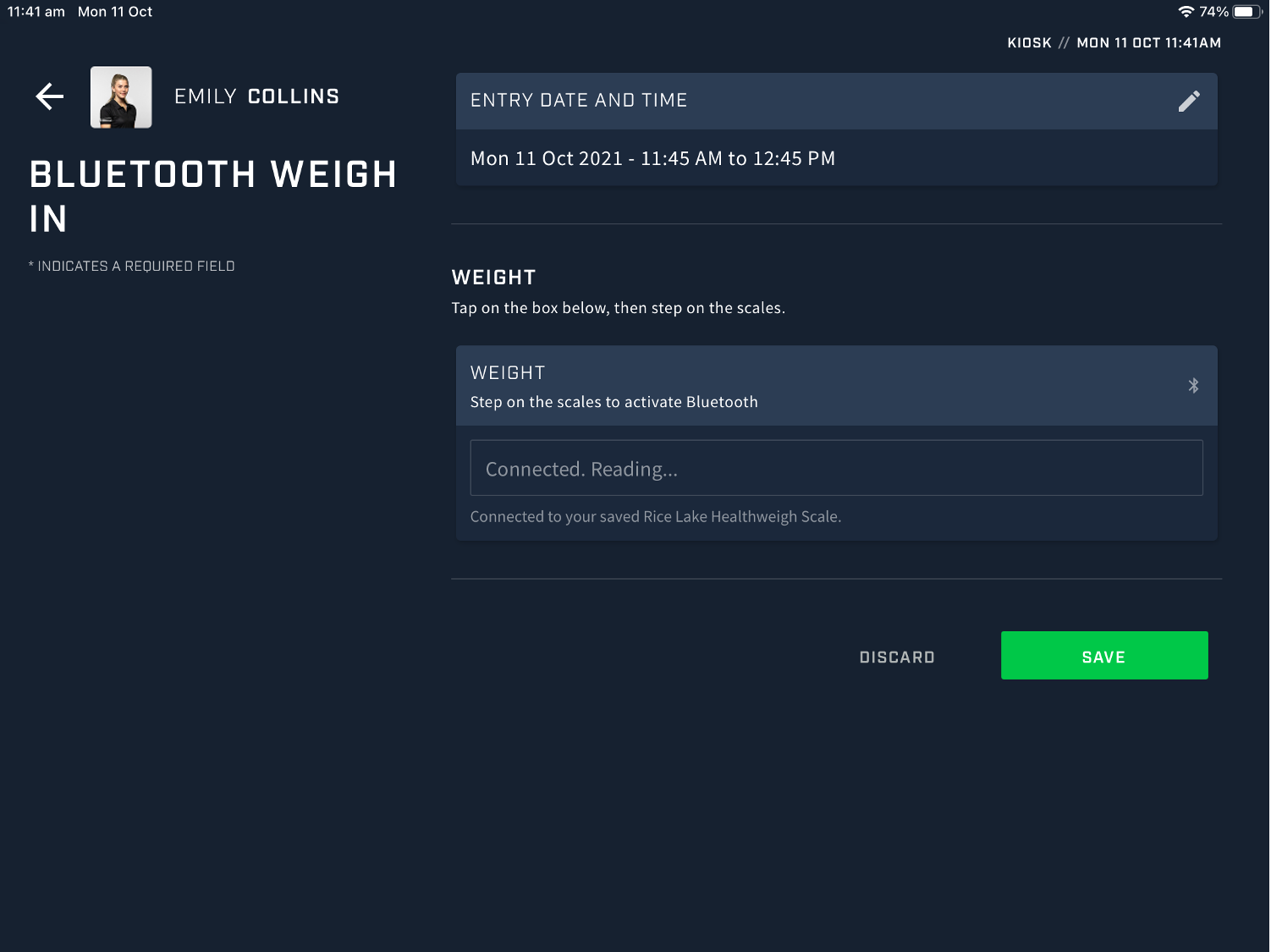 To disconnect a device, click on the device name. Any devices set up will be saved in the Bluetooth tab for re-connecting to later.
For information on how to set up a Bluetooth integration as a Smartabase builder, check out the article on user-defined property schemas.
Kiosk settings
Use the Kiosk settings screen to adjust the kiosk's display name, enable a PIN for logging in, change the PIN or remove the PIN.
You should not share the login credentials (username, password or PIN) for the Kiosk account with anyone who does not need access to it. If you believe someone has access to these credentials who should not, we recommend that you reset the password immediately.