You can integrate Omegawave with Smartabase to gain valuable insights into a person's wellbeing in relation to cardiac, metabolic and neural readiness. Omegawave tracks daily physiological changes that can help people reach their peak performance, as well as target internal markers of fatigue to reduce injury risk.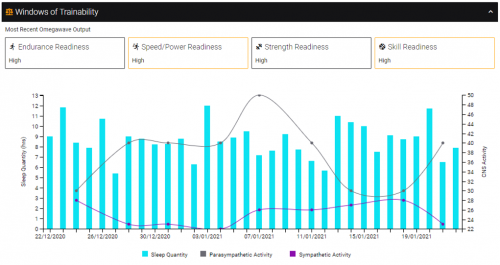 Setting up your Smartabase site to integrate with Omegawave
What we need from you
Not much! We'll just need you to reach out to your Omegawave contact and request your Team GUID number (your Smartabase consultant can help you with this). Once you've confirmed you'd like to go ahead with the integration and provided your Team GUID, one of us at Smartabase will set it up for you.
What Smartabase will do
Your Smartabase consultant will add the Omegawave event form to your site, which will connect with and store all data from Omegawave, along with the Omegawave profile form, used to store account mapping information. You can work with your Smartabase consultant to ensure the appropriate roles have access to view this information, as well as any dashboards set up to visualize the data.
Please speak to your Smartabase consultant before adding any new fields to the Omegawave event form as it may have unintended consequences.
How are people's accounts mapped between Omegawave and Smartabase?
Smartabase uses Omegawave Athlete ID number to map people's accounts between the platforms. When this integration is initially set up, your Smartabase consultant will be able to retrieve and map this information for you. The values are imported into the Omegawave profile form using the standard data import process:
Open and log into Smartabase Online with your browser. Ensure you've loaded a group that contains all the people that you're mapping.
Select Import Profile Data. Provided you have permission to do this, it will appear as a front page button or within the navigation bar.
Choose the Omegawave profile form.
Add a CSV file containing the list of people to map and their Athlete ID numbers (this can be provided by your Smartabase consultant), then click upload. You do not need to generate a template for this task.

Choose the appropriate identifiers from the drop-down. These will be the columns containing the names of the people you're mapping. If the names aren't an exact match, you'll be able to manually search for and map the correct people to the names in the file.
Confirm the CSV columns have mapped correctly to the form.
Click Next, then click Import.
To add people after this initial import, you can either add the details for an individual using profile data entry or complete the import process for multiple new accounts at once. Your Smartabase consultant will be happy to provide guidance throughout this process.