You can go to the Settings tab to adjust the dashboard settings, such as the dashboard's name and description, viewing permissions, print settings and avatar setting.
General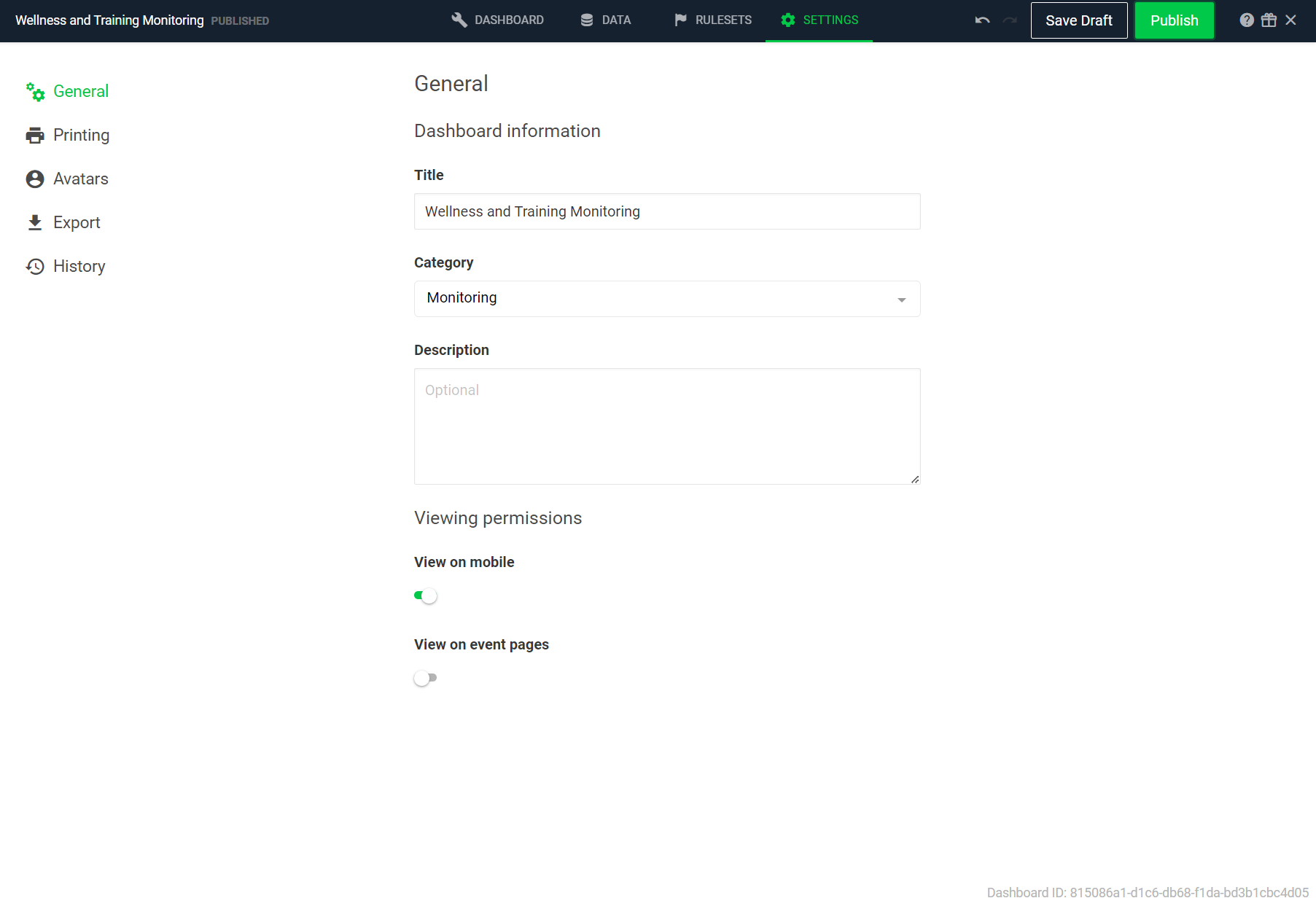 Use the General settings to edit the Title and Description of your dashboard. The information you provide as a description will become available to viewers when they use the info icon located near the dashboard's print button.
By default, dashboards will be displayed on Smartabase Online under the Built Dashboard category. To assign the dashboard to a custom category, select an existing option from the Category dropdown menu or create a new category. A new category can be created by typing the category name into the Category field and pressing the Enter key on your keyboard.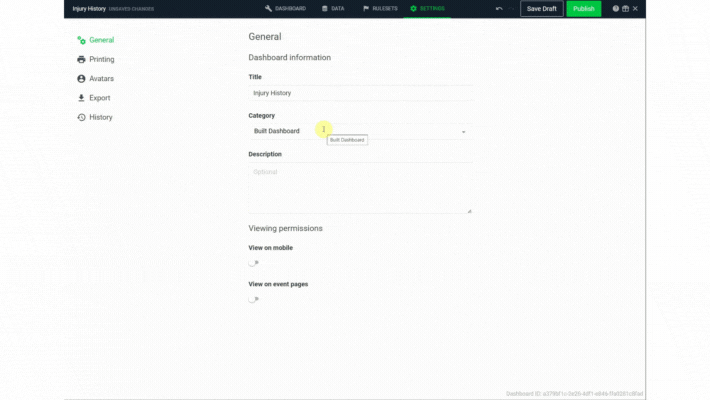 The categories shown in the dropdown list indicate those that are currently assigned to dashboards on your site. When there are no dashboards assigned to a category, the category will be removed from the list.
You are also able to choose whether your dashboard is enabled for people who are using your Smartabase site with the Smartabase mobile application or Smartabase Athlete app. If enabled for mobile, then your dashboard will display data from all event forms it uses as data sources, regardless of whether those forms have been individually enabled for mobile use.
You can also enable dashboards for embedding into event forms. Using this setting means that the site owner can add a dashboard into an event form.
Printing

Ensure that your carefully designed dashboards come out perfectly when viewers choose to print them. The Printing settings allow you to set the default behavior for what happens when someone uses the print option (located in the top corner of each dashboard) to create, save or print a PDF version of the dashboard.
Individual users can still select differently, but you can make it more straightforward for them by choosing the Orientation and Paper size of the PDF output. You can also set a default behavior for which dashboard canvases are included in the PDF.
In most dashboards, some sections will be set up to be collapsible by the viewer. If a section is collapsed, it will be completely hidden from the printed output (including the section header), regardless of whether or not the section is set up to show on print in the builder.
Avatars

Use the Avatars settings to choose a Color style for all avatars included in your dashboard. You can choose from Full color (default), Grey, Black, or White.
Export

Use the Export settings to export your dashboard as a text file, which can then be used to create new dashboards. This setting is particularly useful for enterprise customers to share dashboards across different child sites.