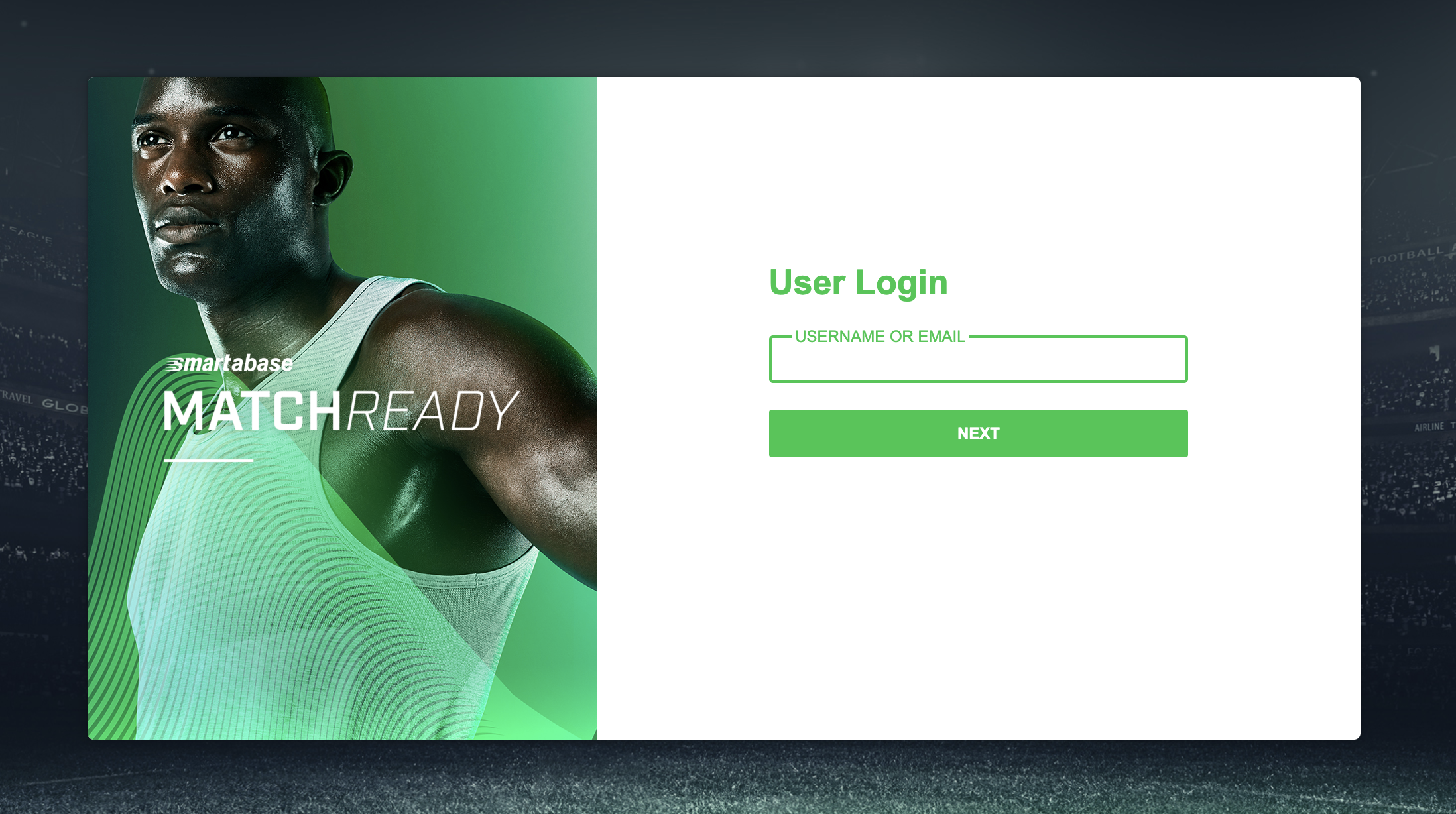 Each person who uses Smartabase needs to have a user account for their organization's Smartabase site. This includes people who need to enter data about themselves or other people and those who want to view data within Smartabase.
You need to log in with your user account when you use Smartabase. Your Smartabase administrator is responsible for making sure that you know the site location or URL and username so that you can log in. You'll also need to know your password.
Some important things to know about logging in:
Access your Smartabase site
People often use Smartabase with their web browser, which provides the most functionality for entering and viewing data, producing reports and other common tasks. Smartabase works best in either Chrome or Firefox. You can follow one of the links below to choose and install a browser on your device that performs well with Smartabase.
The URL for accessing the main interface (also referred to as the site location) usually follows this format:
servername.smartabase.com/sitename
If you don't know your site URL, contact your organization's Smartabase administrator.
Reset your password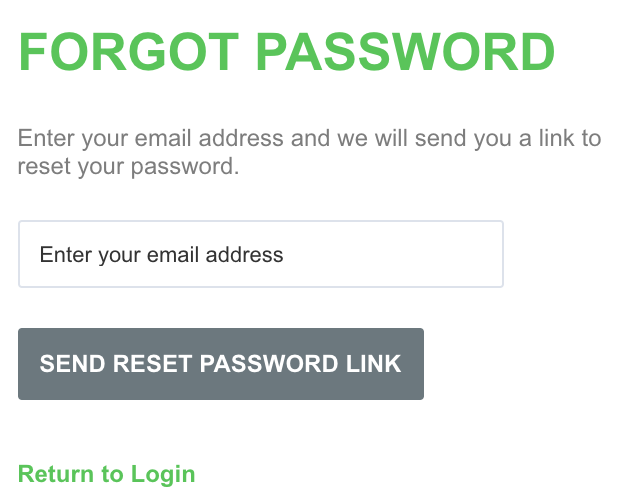 If you forget (or don't have) the password for your Smartabase account, you can reset it from the Smartabase login page. There's an option for resetting your password on the screen where you would normally enter your password. When you use the password reset option, you'll be asked to enter the email address for your Smartabase account. Use the button to send a password reset link, and you'll get an email from noreply@smartabase.com with a link to reset your password. The link takes you to the password reset page for your Smartabase site.
For security reasons, the link expires after one hour, and you can only use it once.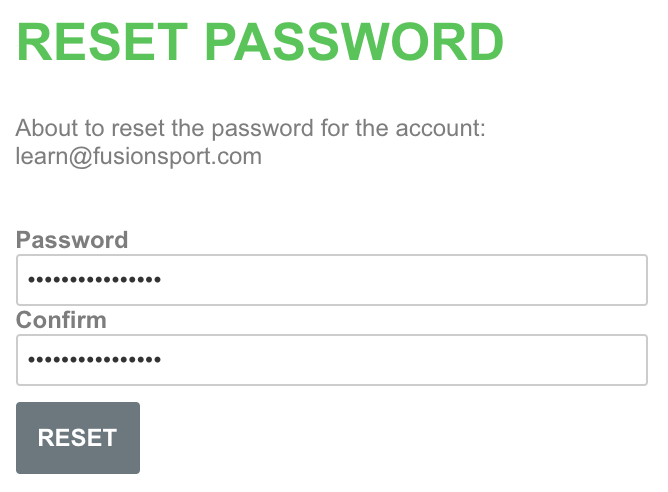 You can use the password reset page to enter and confirm your new password. Note that you can only change your password twice within a 24-hour period. When you choose a new password, you'll be prompted to meet the minimum requirements for password complexity set up by your organization. Password requirements vary from organization to organization, but normally include:
A minimum and/or maximum character length.
A minimum number of upper and lower case letters.
A minimum number of digits and special characters, like 402 and &#!.
The exclusion of any common sequential or repeated letters, numbers or symbols, like 1234, 111, BBB or !@#$.
Your organization may also prohibit the use of a certain number of prior passwords. By default, a Smartabase site will ban the previous eight passwords used by an account. When you save your password, a window will briefly appear to tell you Smartabase is checking your prior passwords. If your newly chosen password has been used within the disallowed number of prior passwords, you'll be asked to choose a different one.
Once you've saved your new password, you can log in using it. Smartabase will also send you an email to confirm that your password has been changed.
In addition, your organization may enforce a password expiry. In other words, after a certain period of time, you will be required to choose a new password. After entering your old password and logging in, a message will appear informing you that your password has expired, and prompt you to enter a new one.
If you receive an email from Smartabase with a reset link that you didn't request, you don't have to reset your password (it won't change unless you change it using the link), but you should let your organization know what happened. Likewise, if you receive an unexpected email saying that your password has been changed, you should also talk to your organization's Smartabase administrator.
If you or anyone else makes more than five failed attempts to log in to your account, Smartabase will remove the ability to log in for 10 minutes. This is to help prevent unauthorized access to a Smartabase site.
Authenticate your device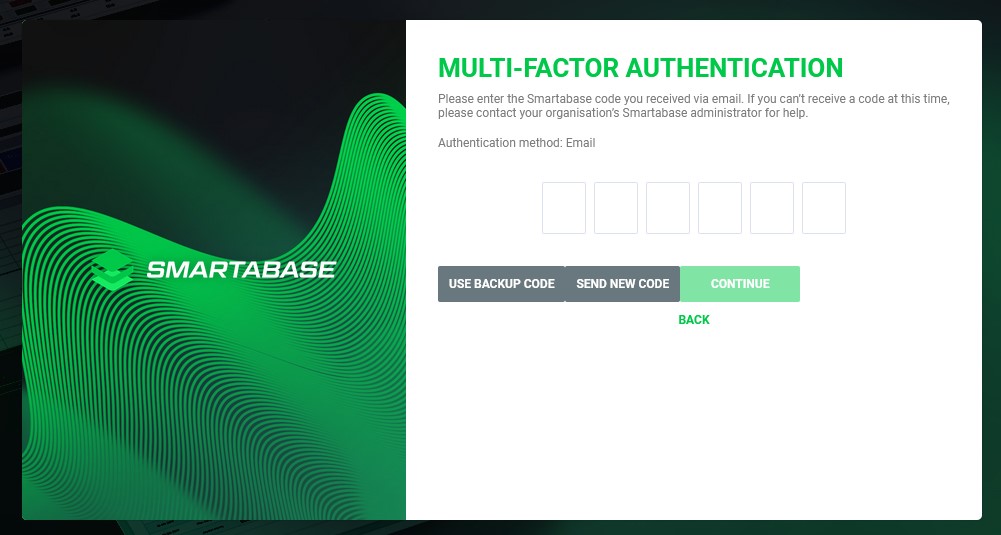 If multi-factor authentication is enabled for your Smartabase site (or for your role), you're required to authenticate certain actions (like logging in) by providing a code. You can choose how you want to authenticate using your account settings. For more information, refer to the multi-factor authentication article.
Terms of service and your consent
Depending on how your organization works, you might be asked for your consent to specific terms of use for your Smartabase site. These will be shown to you when you log in (for some people, it may be a requirement to view and agree to the terms on each login) and you'll be asked whether you consent to the terms after you've read through them.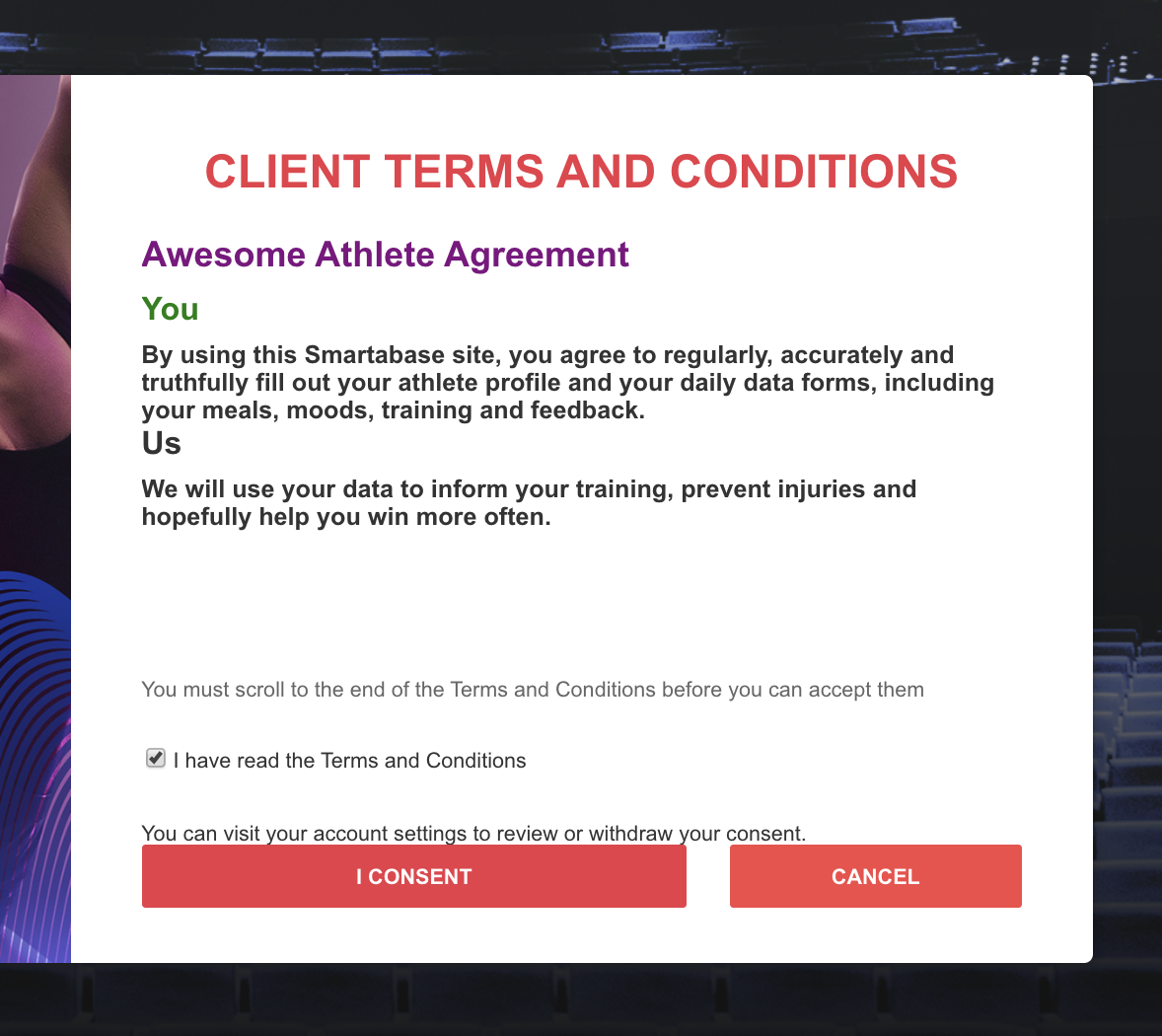 If you can't consent to the terms, you can use the Cancel button instead of the consent button. This will terminate your login process - you can't use Smartabase if you don't consent to your organization's terms of use. If you consent to the terms of use, you can review them later from your user account. It's also possible to withdraw your consent from the user account page.
Log in using another language
If you're using Smartabase in another language (language preferences are set in your user account), you might also want to view the login screen in that language. To change the language of the login screen, we suggest that you use your browser to create a bookmark for your Smartabase site location, then use the ?locale= suffix with the language code you want.
learn.smartabase.com/example/?locale=fr

In the example above, we've used the language code for French. This tells Smartabase to load the French language version of the login screen. You can use the language code for any supported language. We've provided a list below and will update this as new languages are added to Smartabase.
| Language code | Language (English) | Language (local) |
| --- | --- | --- |
| en | English | English |
| fr | French | Français |
| ar | Arabic | العربية |
| de | German | Deutsch |
| nl | Dutch | Nederlands |
| ru | Russian | Русский |
| he | Hebrew | עברית |
| ja | Japanese | 日本語 |
| zh | Mandarin | 中文 |
| es | Spanish | Español |
| it | Italian | Italiano |
| pt | Portuguese | Português |
| ko | Korean | 한국어 |