Notes first published November 24, 2022
Update available from November 24, 2022
View the Smartabase Builder release notes here.
View the Smartabase Administrator release notes here.
Version 6.13 of Smartabase is being gradually released now and includes:
Updated dashboard selection screen
We have introduced a new, modern interface for finding and opening your dashboards. You can look for a dashboard by using the search bar at the top of the page or by selecting a category in the sidebar to filter the dashboards displayed. This interface was previously an optional feature that your Smartabase consultant may have enabled for your site, but is now being deployed to all sites.
New Unspecified option for sex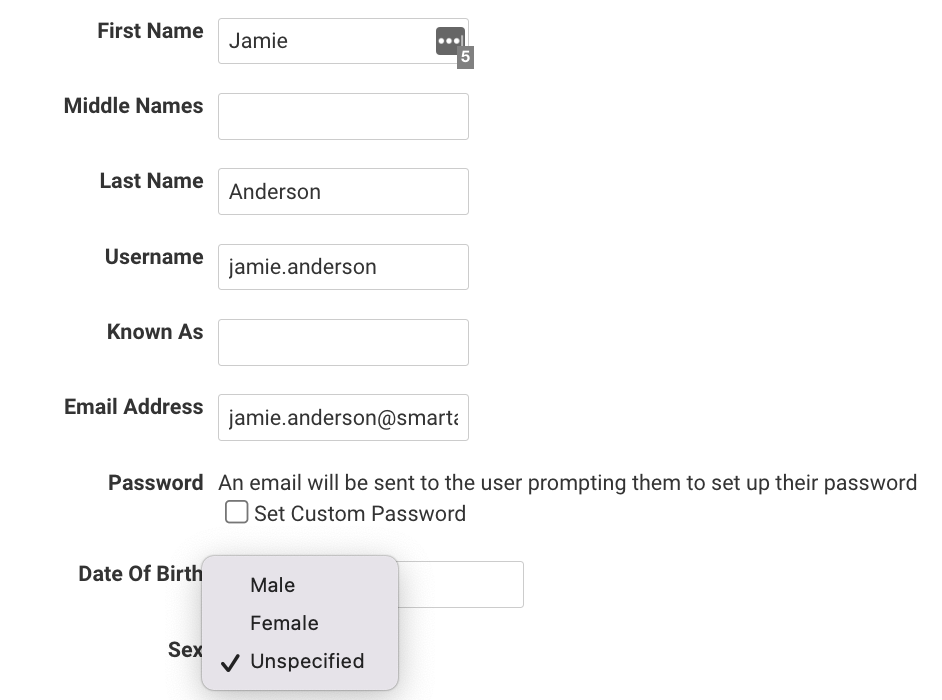 We have introduced a new option for the Sex field in your user account. You can now select the Unspecified option when you update your account details.
Improved previewing of PDF documents
We have made improvements to the way PDF documents can be viewed in a form and in the Resources tool. You can now preview PDFs in Smartabase without needing to download the file. The default zoom level has been increased and there are buttons to zoom in and out, making it quicker and easier to view PDF documents.
General improvements
We have deprecated the Add athletes tool. This was an obsolete page providing general information about how to request for new people to be added to a site and what information needed to be provided to facilitate that.
We've introduced a cookie consent pop-up to inform you of our cookie usage and privacy policy. This pop-up allows you to opt out of non-essential cookies and will only be shown once per site.
We've updated some of our translations, including the error messages for APIv3, login pages based on browser locale and updated email text for magic links.
We've done some work on improving single sign on (SSO) such that when someone logs out of Smartabase after using SSO to log in, they are then redirected to a URL set by an administrator.
Bug fixes
We've resolved an issue that was preventing performance alerts from being triggered by Smart flows when the Notification criteria was set to First save only.
We've fixed an issue that cleared HTML embed field content when the person editing the form did not have access to a relevant restriction policy.
We've resolved an issue where the Delete button was unavailable in table rows pasted from templates.
We've fixed an issue causing Multiple file uploads to freeze when larger files were being uploaded.
We've resolved an issue that caused Search list fields affected by a restriction policy to return an error.
We've fixed an issue that was causing pivot tables in Excel reports to break.
We've resolved an issue that caused the user to be logged out when accessing profile images uploaded on a shared site.
We've fixed an issue where an error message was showing up in some records due to an issue in the handling of translation-related code.
Updates between 6.12 and 6.13
6.12.4 - available from October 09, 2022
We fixed an issue where changes to a site's grouping structure were not being reflected in Smartabase Online until people logged out and back into the site.
We updated the wording of the subject for performance alert emails.
6.12.6 - available from November 10, 2022
We made some security improvements.
We resolved an issue with API documentation not displaying any V3 services.
Highlights from your last Smartabase release notes
In the last release notes, for version 6.12 of Smartabase, we announced:
Introduction of magic links.
Initial support for OSIICS 13.
General improvements.
Bug fixes.
If you missed those release notes, you can read them here.