Notes first published September 13, 2022, revised September 14, 2022
Update available from September 12, 2022
View the Smartabase Builder release notes here.
View the Smartabase Administrator release notes here.
Version 6.12 of Smartabase is being gradually released now and includes:
Introduction of magic links
This release introduces magic links to Smartabase, which are designed to make it easier for you to log into Smartabase. Magic links allow you to log into Smartabase without needing to know your site URL or username. You'll be prompted to create a password in order to log in.
A Smartabase administrator can generate and send a magic link via email. The link will expire after 1 hour. Each magic link can only be used once.
Initial support for OSIICS 13
To support version 13 of OSIICS for medical codes, we have introduced a new field named OSIICS version 13. OSIICS refers to the Orchard Sports Injury and Illness Classification System and this new field includes all injury and illness codes for version 13. Search for the relevant code by OSIICS code, body area or the injury name. This field differs to our previous injury and illness code fields in that it doesn't include a body diagram.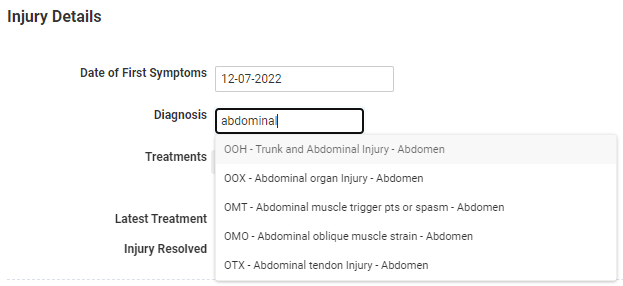 It is important to note that this field is not entirely compatible with existing OSICS fields as some injury and illness codes were changed between versions. Therefore we are unable to support the migration of existing OSICS codes to the new OSIICS field.
General improvements
We've continued making improvements to background job processing and queue logging. This means Smartabase can handle queued actions (like Smart saves and historical calculations) more efficiently and with fewer errors.
Your site's theme colors are now reflected in the new interfaces for form and dashboard selection on Smartabase Online.
[Correction: removed details of an improvement intended for a future release.]
We've updated the login screen so you can choose to log in using single sign-on (SSO) if it's enabled for you.
We've updated the login screen so that all text uses the default language for your device.
If you receive multi-factor authentication (MFA) codes via email, the email content will be displayed in the language you've selected for your Smartabase user account.
Bug fixes
We've resolved an issue that allowed incomplete records to be saved. This occurred if Slider fields were set as Required and also had a blank default option.
We've fixed an issue with Embedded event summary fields caused a decimal place to be added to numbers if the number format was set to zero decimal places (i.e. 0.0 was displayed instead of 0).
Updates between 6.11 and 6.12
6.11.6 - available from May 3, 2022
Highlights from your last Smartabase release notes
In the last release notes, for version 6.11 of Smartabase, we announced:
Favorite dashboards.
Updated interface when choosing an event form.
General improvements.
Bug fixes.
If you missed those release notes, you can read them here.